Joplin's 9/11 Memorial Service features Tritt
September 09, 2011
Staff note: Based upon releases distributed by Lynn Onstot, Joplin information officer, and Stephen Smith, MSSU news bureau manager (today, Friday, Sept. 9, 2011) according to a statement made by Travis Tritt, he has cancelled his appearance in Joplin that was scheduled as a final tribute to the 9-11 flag on both Sunday morning on campus and Sunday evening in Landreth Park. Onstot says that "everyone involved in this effort was disheartened and surprised by his statement as no concerns had been voiced by Tritt to local representatives." Smith's release says Tritt used the term "regrettably" in making his cancellation announcement.
While the evening concert will not take place, the morning memorial event will take place as planned.
According to a post by Travis Tritt on Facebook, when he was informed that any reimbursement of expenses that would be incurred as a result of his participation "would come from monies previously donated for the victims of the tornadoes...and that the city of Joplin hoped that the funds would be reimbursed by sponsorship money," he said that he had to cancel because "it was inappropriate and wrong to take contributions that were given to help victims of the tornadoes and use that money for any other purpose."
"I was not aware nor would I have even contemplated accepting the city's offer had I known where the money was coming from," Tritt revealed.
We wonder if the people who spoke up against Tritt's appearance now feel a sense of empowerment.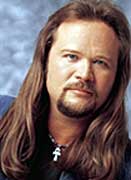 TRAVIS TRITT
Country music star Travis Tritt will perform at the 9/11 Memorial Service beginning at 10:30 a.m. this Sunday, Sept. 11, 2011, at Leggett & Platt Athletic Center at Missouri Southern State University. Doors for the Memorial Service will open at 9 a.m.
Tritt also will be in concert Sunday evening at Joplinís Landreth Park Amphitheater for a free 9/11 Tribute Concert. He will take the stage around 8 p.m. following the performance of Members Only and Livewire beginning at 5:30 p.m. The park will be open to the public at 4 p.m. Bring your own lawn chair seating.
About the 9/11 Memorial Service
The service will include comments from Missouri Southern State University President Dr. Bruce W. Speck, Joplin Police Chief Lane Roberts, Joplin Fire Chief Mitch Randles, United States Army Staff Sgt. John Grayson and Jeff Parness, founder and executive director of the New York Says Thank You Foundation.
Following an 8:30 a.m. ceremony at Cunningham Park in Joplin, the National 9/11 flag will be folded at 9:30 a.m. and taken in a fire truck to Missouri Southern. The truck will pass through areas of Joplin most severely affected by the May 22 tornado from 26th Street to Indiana to 20th Street to Duquesne Ave. and finally to Victory Lane on the MSSU campus and the Leggett & Platt Athletic Center.
The flag will be put on display during the Memorial Service and from approximately 11:30 a.m.-5 p.m. area citizens will have the unique opportunity to place final stitches in repaired sections together with pieces taken from other flags, including flags that flew in Joplin during the May 22 tornado. Following the stitching in Joplin, the flag will be taken to New York City where it will be placed in the planned 9/11 Memorial Museum.
About Tritt
Singer/songwriter/actor James Travis Tritt (1963-) originally was from Marietta, Georgia. Most of his albums are certified platinum or higher by the Recording Industry Association of America; It's All About to Change was even certified triple-platinum. He has received two Grammys for Best Country Collaboration with Vocals with The Whiskey Ain't Workin' and Same Old Train, has been honored by the Country Music Association, and has been a member of the Grand Ole Opry since 1992.
Tritt considers himself one of the leading new country singers of the early'90s, holding his own against Garth Brooks, Clint Black and Alan Jackson. He distinguishes himself by being the only one not to wear a hat and to "dip into bluesy Southern rock."
For a post about the Cunningham ceremony go here.