No bull; they ran like heck anyway
September 16, 2011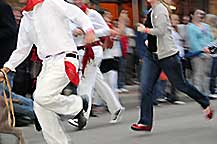 Participants in the first annual Joplin Running of the Bulls were little more than a blur as they headed down Main Street just a few steps ahead of a group of Mo-Kan Roller Girlz with bats.
An amazing number of people lined Main Street in Joplin yesterday evening (September 15, 2011) to watch participants, restricted to age 15 or older, who paid $10 to escape being pummeled by a bat wielded by a member of the Mo-Kan Girlz, a group of females 18 or older who take part in a roller derby at Spinning Wheels SK8 Center in Carl Junction. The runners' punishment was a milder outcome to be sure than being gored by a ferocious bull but not any less embarrassing. They ran in a circular path from 7th Street to 4th and back. To get into the spirit of the chase, Spanish flags flapped in the breeze and runners and spectators alike wore traditional red and white colors.
Ashley Taylor, a pharmacy student at Creighton University's Distance Program, thought having the race was a cool idea to raise money. While she thought the sprint would be a good warm-up for the 5K she plans to enter in October, she said she was breathless returning back and wound up walking.
"The pace was extremely fast," Taylor said. "What should anyone expect? Most of the participants were football players."
Runners, over age 21, were entitled to free beers at Instant Karma, Caldone's and Club 609. Those who paid an extra $10 received a red bandanna and armband.
Mentally counting the crowd was Patrick Tuttle, director of the Joplin Convention & Visitors Bureau who agreed that there seemed to be more people than those that line the streets for Joplin's Christmas parade. And to him it seemed just as cold.
The event, planned to coincide with Joplin's Third Thursday, was a benefit to raise money for the reconstruction of St. Mary's Elementary School that had been destroyed by the May 22 tornado.
Photos that appear below are an attempt to capture the spirit of Third Thursday. In addition to the Running of the Bulls, an art walk and face painting were featured. Actors associated with DreamSpiral Productions LLC attracted attention after they took to the street to promote their walking tours of historic downtown Joplin that will take place in October.
Click on any photo to start a slide show.