5:41, insight into the Joplin tornado
September 22, 2011
For those who like their information in one place, they will appreciate the efforts of Joplin middle school teacher Randy Turner doing what he does best on "The Turner Report"--chronicling the day's events online. Turner, together with
Carthage Press
managing editor John Hacker, a local well-known weather photographer, have self-published
5:41 - Stories from the Joplin tornado
, a compilation of articles--some solicited, many not, that they admit could not possibly tell the whole story those in Joplin during the tornado could tell.
The "many not" might be subject to criticism for inclusion by those who themselves actively use Google to search news. The "many not" represents about a half dozen or so commentaries that previously have been published elsewhere. The "many not" also represents the editorial decision to reprint the speeches made by Rev. Aaron Brown, Missouri Gov. Jay Nixon and President Barack Obama. What makes reading repetition so nagging is one's insatiable desire to read more from the people who finally are willing to share their unique firsthand experiences--before, during and after "5:41," the time the tornado is credited for having struck.
And in 5:41 those stories resonate. There are, for instance, the words of Pitt State student Larry Thomas, who survived the total destruction of the Missouri Place Apartments--words described by Hacker as coming in a "stream of consciousness;" how St. John's ER doctor Kevin Kikta describes the 45 seconds needed for the tornado to annihilate his hospital surroundings and then the immediate aftermath where he describes leaving the building and seeing "a man crushed under a large SUV, still alive, begging for help" as well as the many suddenly present seeking care but bewildered by the scene around them; how Kristen Huke, a visitor at Freeman, Joplin's only remaining hospital, shares her observations of the lines of hurt people, many bloody, seeking help there; and the account of Latina Puebla at the Full Gospel Church on South Michigan who could hear the pain expressed by her daughter and sister before they died.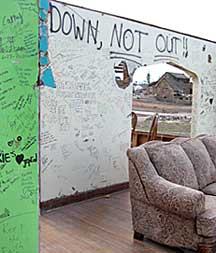 RESILIENCY OF JOPLIN TORNADO VICTIMS (Joplin Independent photo)
"We saw that wall of storm heading towards us," were the words of Tommy Carpenter, heading for what he thought would be the safety of Walmart. He describes covering the body of three-month-old Grayson Chaligoj, whose mother innocently had brought her son to Walmart to have his picture taken. Shaney Delzell's decision also was to head for Walmart rather than stay in their trailer; little did those who sought shelter in the big box store realize that it would turn out to be a "house of cards" like Home Depot and Academy Sports and contribute significantly to the number who died.
A theme that seems to form after reading the firsthand accounts is that people were oblivious to the danger about to confront them. We read how people stood in front of windows or in their yards mesmerized by the cloud formations until, as in the case of Denton Williams, they realized the danger in their own neighborhoods that left them little time to seek shelter. Andrea Thomas admits that she and her husband Joe kept returning to the TV rather than, as Joe joked, risking "toilet water flying on us" by remaining in the bathroom. Others like Kelly Maddy and his wife Adriel decide--mind you with just an interest in meteorology but with lack of proper equipment--to go chase the storm and wind up being able to tell the tale of being in the midst of it. And we must not forget the poor decision of Will Norton or his father to drive towards home on the west side of Joplin into the tornado's most destructive path.
While most people praise God for their survival, one account written by Michael R. Sharp (Sarcoxie resident?) blames the coming of the destructive tornado on those living in Joplin who "renounce Jesus Christ as their Lord and Savior and more whom (sic) don't lay claim to either side." Satan, Sharp claims, has stirred the atmosphere causing the winds approaching 300 miles per hour, taking in their wake St. Mary's Church, where, no doubt, Sharp may believe, some sinners really abide. However, at the end of his righteous diatribe, Sharp does admit that the response of neighbors helping neighbors in Joplin makes it a "wonderful place."
"I don't know that there was any criteria to choosing who went in the book," Hacker explained. "We accepted the stories that were sent to us. Michael Sharp had a perspective on the tornado. It really wasn't difficult to get people to open up about what happened. On the contrary, most of the people I talked to wanted to talk about it and the people who provided us stories did so eagerly. I can also understand those people who wouldn't want to talk about it, things like this affect each person differently."
The publication of the book might have been a rush job, not unusual for anyone wanting to beat out the competition. Hacker says that he sent a letter of complaint to the company that created the book after seeing that many of the black and white photos he submitted "had a contrast problem" even though he claims that they appeared okay on the book's proof copy. A few typos and irregular spacing, and the strange decision to start chapters on the lefthand side leaving many blank pages on the right, also seemed bothersome.
After shelling out almost $20 for a newly published copy, the purchaser might put the book on his or her coffee table anyway; that is, if there still is a coffee table. What should be noted, and for some reason doesn't appear in Turner's introduction, is that in his blog he has promised that proceeds from the book will go to help fund a communications program at his school. For that, many should overlook any shortcomings, allowing to maximize the amount of money headed for that worthy cause.
---

Title: 5:41 - Stories from the Joplin tornado
Authors: Randy Turner and John Hacker
Publisher: Self using CreateSpace.com (Aug. 28, 2011), 218 pp., $17.95 at Amazon.com
ISBN-10: 0615516114
ISBN-13: 978-0615516110

---