Local photographers descend on downtown Joplin
October 03, 2011
by Mari Winn Taylor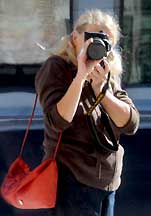 SELF-PHOTO REFLECTION
Downtown Joplin was chosen as the location for participation in author/photographer Scott Kelby's annual Worldwide Photowalk. The event organized locally by Danny Wilson (of Carterville's Wilson Photography) attracted over two dozen participants of all ages and skills who could be seen from 6th to 1st streets and adjacent areas, some trying to get the "perfect shot" that might put them in competition for national recognition. Many were just building their portfolio in a specific subject or simply finding an excuse to enjoy the bright sunshine that illuminated the scene on Saturday morning, Oct. 1, 2011.
Some were photographing their favorite or latest subject--an architectural piece, a flower or an oddity. They will admit that such an exercise sharpens the eye, and that the world around them becomes more vivid and interesting.
Wilson heads Four State Photography Enthusiasts. They meet on the second Tuesday of the month at 1604 Ellis St. in Webb City. For more information go here
More on Kelby
According to Scott Kelby's blog, for the 2011 photowalk more than 1100 walks were staged nationally as well as internationally--"all coming together as one big community to share [their] passion for photography and people." It was his fourth year organizing the event and he credits much of the success of the walks to his book publisher Peachpit Press. His latest photography how-to is the prize given to the photo chosen as the best locally. All local photos then become eligible for best of show.
Kelby himself led a group of camera enthusiasts in Tampa, Florida. Shooting with a Nikon D3s body with just one lens; the 28-300mm f/3.5 – f/5.6 VR lens, he captured a few high contrast photos that may be found here.
Below is a sampling of some of the photographers who took part as well as examples of my humble attempts to capture what caught my eye. I particularly was fascinated by the reflections I saw in windows and doorways, including myself. (I see myself, therefore I am.) Click on any photo to start a slide show.