Joplin: a trip down memory lane
October 11, 2011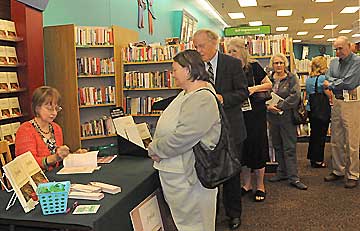 Lovers of history line up at Hastings Books on September 24, 2011, to have copies of Joplin autographed by its author, Leslie Simpson.
by Mari Winn Taylor
A building doesn't have to be old to be historic was the message author and long-time Joplin resident Leslie Simpson conveyed to the group assembled at Hastings Books recently during a book signing. Simpson, who is director of the Post Memorial Art Reference Library in Joplin, again shows her enthusiasm for local history by contributing to Arcadia Publishing's Postcard History Series with a book devoted to vintage images of Joplin.
Two post-tornado photos included in the book illustrate the message that buildings' lifespans may be ephemeral. Thus, preserve all of them in pictures before they fade from memory. Actually, try to preserve all of them period. All too often historic preservation efforts are superseded by the pragmatic notion that the space could best be used for a parking lot. Simpson believes that the historic preservation that has become an important element in Joplin's economic development at the beginning of the 21st century was a lesson learned too late, especially in preserving the wonderful architecture she reveals in her book.
What Simpson admirably has done is to provide photographs of postcards that will send long-time residents on a nostalgia trip and educate newcomers on what an important city Joplin was in its early infancy. While I am still considered a "newcomer" (having moved to Joplin in the early 1990s), I have been privy to conversations about the "good ole days," especially where one sought entertainment. Sometimes the conversation would reference an eatery on South Main Street or West 7th. While I was at a loss to help jar the memory further regarding these places, I was excited to find in Simpson's book photos of several of them--Roy's, Keller's and Mack's Drive-In and thought how excited these folks would be to see images of these establishments from the 1930s that they sought to describe.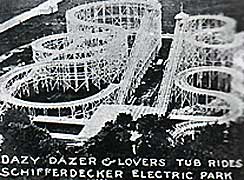 "It all began with a postcard!" Simpson acknowledges. After moving to Joplin in 1979 and seeing a postcard (pictured in part at left) of the brightly lit Electric Park with its Ferris wheel, roller coaster and daisy loop, she says she was "shocked" over what her hometown once had to offer. The postcards reveal how Joplin had been promoted as an area recreation and destination spot, had a transportation system that made the city the "hub of Southwest Missouri, and encouraged the establishment of thriving businesses, including accommodations like the Keystone and Connor hotels.
"Life was good in downtown Joplin in the 1950s," Simpson writes. The 600 block of Main Street was home to many diversified businesses. "However," Simpson adds, "this would be Main Street's last hurrah before urban renewal programs demolished 35 acres of buildings....."
Did you know what the miners first tossed aside as worthless that they later discovered was more valuable than lead; which building was demolished when a 10-gallon can of disinfectant exploded in its basement; who established Joplin's first financial institution; what the original St. John's and Freeman hospitals looked like; where Joplin had a thriving flour mill and where half of Joplin's 44 barbershops were located; which famous celebrities of the past established motels in Joplin and where a flower-filled park established by the Junge Bakery was located on Main St.? These are just a few of the questions that Simpson answers in captions under the display of postcards from both the Joplin Public Library's collection as well as from two large collections belonging to Rodney Blaukat and Galen Augustus.
While providing before and after pictures might be more interesting to some--case in point the ones showing Joplin's Union Depot circa 1969 or earlier to what it looks like today-- they aren't necessary for those with imaginations. However, not all comparisons would be troubling. Photos of those buildings like the Frisco Building show what can be achieved through historic preservation.
Simpson has researched and compiled information about Joplin's houses and buildings for the past 29 years as director of the Post Memorial Art Reference Library. She helped establish the Joplin Historic Preservation Commission and Main Street Joplin and her research and records have enabled numerous buildings to qualify and be placed on the National Register of Historic Places. It's no wonder that former Joplin Mayor Gary Shaw proclaimed May 19, 2008 as "Leslie Simpson Day" in response to the Missouri House of Representatives acknowledgment of her contributions.
---

Title: Postcard History Series - Joplin
Author: Leslie Simpson
Publisher: Arcadia Publishing (9/19/11), 126 pp., $21.95 at Amazon.com
ISBN-10: 0738583227
ISBN-13: 978-0738583228

---
The profits from the first printing of the book will benefit the Joplin Business Recovery Fund. All royalties from the book will be donated to support the Post Memorial Art Reference Library.