Thomas Jefferson Independent Day School expands
October 16, 2011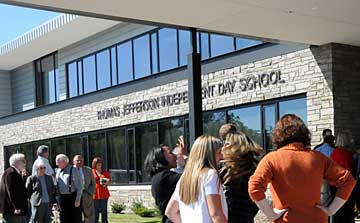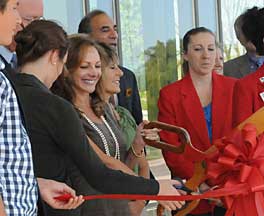 Friends of Thomas Jefferson Independent Day School on Newman Road in Joplin mingle outside after a ribbon-cutting ceremony for the new Humphreys Arts and Student Life Complex.
The Thomas Jefferson Independent Day School now may be unrecognizable to those students who first attended classes in 1993. TJ, the brainchild of Debra and David Humphreys, the President and CEO of TAMKO Building Products, has been expanded to double its original size and reaffirm its intent to provide the best liberal arts education possible. With that goal in mind The Arts and Student Life Complex was constructed. At an anticipated cost of $12 million, the addition features a concert hall and gallery, a commons area with outdoor dining, a studio arts room adjacent to the courtyard, a new library and expanded media resource center and state-of-the-art choral and instrumental rehearsal rooms. Lead architects were Perkins+Will of Chicago working with Crafton, Tull and Sparks from Rogers, Arkansas; the builder was Crossland Construction Company of Columbus, Kansas.
Classes at TJ are divided into three levels: early childhood and lower school that focuses on, individual attention, the formation of good work and study habits and development of friendships; middle school whose focus is on building a strong foundation of basic academic knowledge and analytical skills while having more opportunities to participate in athletics, and upper school with its preparation for success in college, including offering 14 advanced placement courses that may result in college credit.
Convincing the community that TJ is "providing the best possible learning environment for [their]children and equipping them to thrive in an increasing competitive world," school officials have offered the community a chance to contribute towards this effort and, in return, get naming rights. As of April 2011, more than a dozen families had heeded the request. For information regarding this campaign phone Laura McDonald, TJ's Head of School, at (417) 781-5124.
Included in the photos below, in random order, is the gathering area with its tall glass window surround in stark contrast to the area adjacent to the concert hall that serves as a storm shelter for all the students and staff...On stage near the piano is long-time plant manager David Burton talking to Rebecca Luebber known for her involvement in drama and music...Middle School vocal ensemble music director Molly Williams is shown preparing students for one of many concerts scheduled for the 2011-12 season while in another photo students gather around John Atteberry, director of the Upper School vocal ensemble...Shown at the front desk is Terry Davidson, the new cafeteria shows off its apple green decor and a peek into the art room finds instructor Steve Roebuck. Click on any photo to start a slide show.