Dominium to create 1502 Michigan Place
October 25, 2011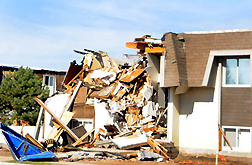 The Oak Meadow Apartments on Michigan Avenue heavily damaged by the May 22, 2011 tornado will undergo renovation as the 1502 Michigan Place apartments.
Dominium, a nationally-known apartment development and management company, has announced that they have acquired the former Oak Meadows apartment complex. The property, that they will reopen next spring as 1502 Michigan Place, is currently undergoing significant interior and exterior renovations totaling more than $15 million in order to repair damage from the May 22, 2011 tornado as well as to make additional needed improvements.
Dominium anticipates opening the 138-unit Michigan Place in April 2012. The building will provide affordable housing opportunities for area residents.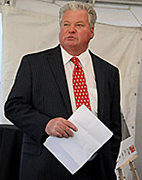 "Following the terrible tornado that devastated the City of Joplin earlier this year, we are looking forward to completing the renovation of this project and being able to provide the residents of Joplin with clean, affordable housing," Armand Brachman, managing partner for Dominium, said. He is pictured at left. "This is a perfect example of how a private and public project should work," Brachman added.
Significant renovation is planned that should remain contemporary for the next 20 years. The interiors of all of the units will have been gutted down to the studs, and receive new insulation, drywall, flooring, light fixtures, cabinets, appliances and mechanical systems. The units also will receive completely remodeled bathrooms, including new toilets, vanities, mirrors, lighting, and tub and shower surrounds.
The exterior of the buildings also will be overhauled. The current stucco façade will be replaced with cement fiber siding, and the mansard roofs will be replaced with new pitched roofs. The cost to refabricate each unit is estimated at $76,000.

This is the proposed new community building.
There will be two new children's play areas as well as significant new landscaping. New fencing will be installed around the perimeter of the site and a new gate and sign will be installed at the site entrance.
In addition, the old clubhouse will be torn down to make room for a new one, which will include the management office, a laundry facility, a business center, a community room, a fitness center and a new police substation that is planned to house the newly-formed multifamily task force. $10,000 has been earmarked for the community center that will be equipped with computers in hopes that the access to technology will assist residents in finding higher paying jobs.
A groundbreaking ceremony took place today (Oct. 25, 2011). Lt. governor Peter Kinder represented the Missouri Housing
Development Commission with funds to be administered through US Bank. In commenting about the project, Kinder said, "The amazing, resilient, rebirth of Joplin continues." He voiced approval of Dominium's rendering to do it right and said, "That's what we like to see."
Joplin Mayor Mike Woolston said he remembered when the original apartment complex was built in 1969. He voiced approval over Dominion's decision to take the units "down to the bare bones."
Dominium's coordination of a construction and permanent loan from Great Southern Bank, an Affordable Housing Assistance Program (AHAP) loan from community Renewal and Development, Inc., an award of 9% low income housing tax credits and state tax credits from MHDC and a tax credit and AHAP equity investment by U.S. Bancorp Community Development Corporation have done the most to make this project possible.
Founded in 1972, Dominium is a Minneapolis-based owner, developer, and manager of apartment communities nationwide. Dominium has more than 20,000 owned and /or managed units at 200 sites in 20 states.
Participation in the Family Section 8 government subsidized housing program allows future residents to pay rent based on 30% of their adjusted gross income. For more information about reserving a rental unit phone (417) 781-3973.
Photos that follow show officials that were present at the groundbreaking ceremony. Also shown are architectural renderings of the 1-4 bedroom apartments and a layout of the grounds. Click on any thumbnail for a slideshow.