Joplin Schools music program gets large boost
October 28, 2011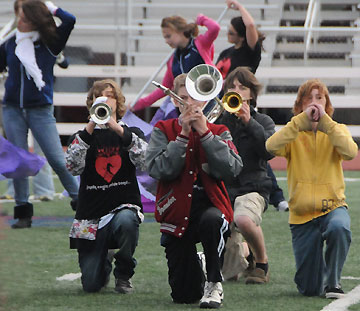 Did you ever wonder what it's like to play without an instrument? Thanks to a donation from Barry Manilow and his Manilow Music Project the Joplin schools music program will not have to be concerned about that.
Singer/composer Barry Manilow was on hand in Junge Stadium on October 27, 2011 to present more than $300,000 worth of instruments to the Joplin Schools music program that had been devastated by the effects of the May 22, 2011 tornado that destroyed a number of Joplin schools.
Influenced by the "Extreme Makeover: Home Edition" show that had just completed filming in Joplin, Manilow shouted, "Move those trucks." He was referring to three trucks that were parked on a nearby street that were filled with musical instruments representing a contribution from the Manilow Music Project, a part of his non-profit, Manilow Fund for Health and Hope.
Looking out at the young faces in the crowd, Manilow asked, "Do you young people know who I am?" He proceeded to sing notes from one of his songs, Copacabana which he performed before many of them were born.
Shouts of appreciation from the audience were in response to his query. Maybe, they didn't know who he was, but they did know the significance of what he has done.
"I know what music can do for young people," Manilow said, suggesting that not the least was raising grade levels and creating a healthy interactive social climate. Admitting that he was born into a poor family from Brooklyn, New York, Manilow said that an orchestral class changed his life.
In response to a phone call from a long-time friend Margie Fitterling and aware of the devastation caused by the tornado, Manilow decided that, maybe, he could help by bringing back music to Joplin. He said that he, with the help of his associates, could make "the hurt a little easier to bear."
As a lifelong fan of Barry Manilow's music and humanitarian efforts, Margie Fitterling said that she and her husband Dr. Michael E. Fitterling, a dentist, were "thrilled to work with the Manilow Music Project to help our community. The Fitterlings continue to encourage monetary donations to help re-build the music department's library by purchasing sheet music for the band, orchestra and vocal students. Checks should be made out to the JHS Music Department and dropped off or mailed to Fitterling Dentistry, 4402 E. 32nd Street ( beside Southside Antiques), Joplin. The address is temporary having lost their permanent office in the tornado.
The photos below were taken at the Junge Stadium event. Click on any one to begin a slideshow.