Looking ahead...hopefully moving forward
November 08, 2011
Commentary by Mari Winn Taylor, as a not-quite-editorial
Now that members of the Citizens Advisory Recovery Team have presented their "Listening to Joplin" report to the Joplin Council, many should be wondering how strenuous they will push to have its "suggestions" implemented. After all, even "demands" require a great deal of old fashioned politicking, not to mention motivation, in order to move from theory to practice.
Perhaps, an "aren't we proud of ourselves" attitude could be detected when each ruling member of the CART team presented his or her little spiel to the council last night (November 7, 2011). And, well, they should have felt that way, having spent countless hours sifting through ideas presented to them. What they stressed repeatedly was that what they were promoting was, indeed, the will of the citizens of Joplin-- those that took the time to come to special meetings to leave suggestions regarding what direction Joplin should take in recovering from the effects of the May 22, 2011 tornado and those that volunteered to be on one of four sub-committees dealing with housing and neighborhoods, schools and community facilities, infrastructure and environment and economic development.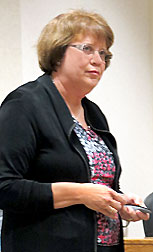 Jane Cage, pictured at left, who is chief operating officer of Heartland Technology Solutions in Joplin, led the group's leaders who presented their findings to the council with a standing-room only audience. She explained how more than 60 architects and designers came to Joplin as a catalyst for recovery and also to put a face on the goals that the committees had decided were the most popular. CART, by the way was formed at the suggestion of the FEMA Long-Term Community Recovery Task Force.
Having briefly served on one of the committees myself, I can attest that the summaries presented were tweaked to include more of what feasibly could be accomplished, although developing underground utilities snuck in there. With at least the photojournalist from the Kansas City Star present (there's an online Joplin tornado section), Cage said the group was before them (with TV camera rolling) to "demonstrate to America our can-do attitude," part of the formal CART vision.
Kim Cox, CEO of The Ozark Association of Realtors and head of the housing and neighborhood committee, spoke of a "new normal for our community," citing the need for an architectural advisory committee to suggest "best practices" and a public awareness campaign to foster the importance of having disaster insurance. (Apparently a large majority of property owners were uninsured and, therefore, motivated to do no more than leave town, either abandoning their properties or those with equity in them putting up for sale signs. While most of Joplin's economically disadvantaged did not play a direct role in CART's recovery efforts, they were, of course, represented by agencies like Catholic Charities and HUD, and admittedly by members like Cox who recognized the overwhelming need for multifamily housing.
Seeming not to step on the toes of the R-8 school board, Doug Doll, president of Arvest Bank who led the committee concerned with schools, did suggest that the rebuilding effort needed to be balanced with requirements for the next 25 years. He called for creating schools as "neighborhood anchors," with a sharing of facilities for the benefit of the community. Including the development of an arts/entertainment center, new relocated farmers market, community gardens and pocket parks brought a brief reaction on the face of city manager Mark Rohr. I swear that a little smile appeared from the corners of his mouth at least once. If he also rolled his eyes, it wasn't detectable.
Clifford Wert, president of US Bank-Joplin region, who headed the infrastructure and environment sector with Amanda Bilke from The Katie Bell Agency, concluded that the community wanted to create an "outdoor, friendly lifestyle" that included the need for sidewalks, the safe co-mingling of bikes and cars, collector-level streets to dissipate heavier traffic and more connectivity of walking trails. Realizing that a bit of money was involved in bringing to fruition those efforts as well the creation of underground utilities, outdoor WiFi access, additional storm water management and reforestation, he called for the creation of private-public collaboratives.
"Long term recovery is dependent upon job creation," Randy Moore, president of Eagle Picher Technologies and head of the economic development sector, told the council. This included reviving the move to get a medical college at Missouri Southern State University and the creation of a virtual spec building to attract businesses to come to Joplin. Moore also called for land use planning around businesses and the creation of codes that included upgrading their appearance to allow for "theme" development--okay thanks to Rohr downtown has a more historic feel but then, without the city addressing immediate code revisions, Frank's Lounge rebuilt sideways and already has met with criticism for using rather tacky, less expensive-looking materials for exterior reconstruction.
What made me smile, albeit in thought only, was the notion that, perhaps, CART's accomplishment was more of a personal process than something the council might seriously consider. Wasn't that the case with the city's invitation to citizens to engage in Joplin's "Envisioning Process" in the summer of 2007 or the elaborate conceptual report created in the fall of 2008 by students of the Drury School of Architecture's Community Studies Program that focused in part on amenities that would attract new people to the city and that included many of the ideas currently proposed by CART?
What seems to stall most of these projects is the need for financing--Joplin does not appear to be amenable to spending its own "rainy day" funding nor for floating municipal bonds that would have to be paid back later. Just how much can be financed by raising the sales tax, a favorite tactic, is questionable, especially in today's economy and federal funding will become more lean and mean.
There were no questions asked by the council of CART members, and after a motion, they accepted the report. Councilman Gary Shaw called the plan a "foundation to build upon," adding it "can be a little challenging." Councilman Jack Golden thought it was a good idea to "address rezoning issues." Mayor Mike Woolston concluded that committees might be formed by the council to move plans forward.
Informal agenda meeting
What the majority of CART supporters didn't know was that during the informal agenda discussion prior to convening the official council meeting Troy Bolander, planning and CDBG manager, addressed the council and outlined the need for a formal process for dealing with a record number of developers seeking building assistance through low income housing tax credits (LIHTC). Admitting that at least 25% of Joplin's population find it difficult to afford rents that even are subsidized, Bolander was concerned that in order to keep rents affordable that developers would have to compromise the number of units or quality in order to make payroll due to the large increase in wages in the building and construction industry...so much for "best practices" and assuming or mandating that developers provide amenities that would improve the community. And regarding the need to address financing opportunities to implement CART, Rohr didn't think that we were far enough along for that.
Result of public hearing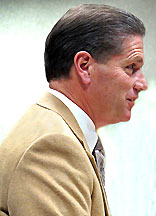 Also on the council agenda, but none the less important were the few words made by Gary W. Pulsipher, pictured at left. The St. John's Mercy Hospital president and CEO spoke in favor of Council Bill No. 2011-278 that would re-zone property in South Joplin on which Mercy could begin to build their new medical center. The property in Newton County is bordered to the north of I-44, to the east by Indiana Avenue, to the south by 50th Street and to the west by Hearnes Boulevard. It also is adjacent to the Village of Leawood.
Opposition to the project was voiced by Denny Desmond, president of the the Leawood Board of Trustees. On behalf of his community, he objected to the project's contribution of additional noise, light pollution and traffic, but even he admitted that the whole thing was a "done deal."
Other matters before the council dealt with an ordinance that would provide for the vacation of a portion of Cunningham Avenue north of West 10th Street requested by Star Wholesale Supply Company that planning and zoning recommended denial, allowing for the combination of the city's real estate property taxes with that of county real estate property tax bills, amending the International Residential Code for the purpose of making certain changes to address issues related to the May 22, 2011 tornado, changing the code dealing with the regulation of temporary alcohol licenses and approving a new fixed based operator agreement between the city and Alpha Air Center, LLC that will allow them to conduct business at the Joplin Regional Airport. It was a busy evening.....