Families receive keys to their new Habitat homes
November 21, 2011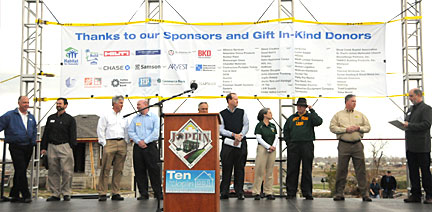 Joplin Mayor Mike Woolsten, far left, joins Joplin and Tulsa Habitat for Humanity officials and representatives from Missouri Southern State University at a dedication and thank you ceremony held last Saturday.
Wind swirled around the platform on November 19, 2011, on Kentucky Avenue at 23rd Street in Joplin when officials for Habitat for Humanity from Tulsa and Joplin handed over the keys to new residents of the 10 houses that had been under construction in that area during the past two weeks. Volunteers had worked effortlessly to ensure that everyone would be in their new homes by Thanksgiving. They did this without compromise to quality, exhibiting acts of love as a tour of any home professed.
The weather was inspirational in speeches offered by both Dr. Paul Kent and Scott Clayton representing Habitat. While Kent referred to "the winds of change...upon us," Clayton mentioned how through all kinds of weather all the volunteers--more than 300---came to accomplish the project.
It was a time for giving thanks to not only the volunteers but also the benefactors, both monetary (more than 170) as well as material (53, offering from door knobs to roofing material). The list was long. Why even a message of thanks was conveyed from President Jimmy and Rosalyn Carter, long time Habitat supporters.
However, while three representatives from Missouri Southern State University, including President Bruce Speck; JoAnn Graffam, the newly named vice president for development and executive director of the Missouri Southern Foundation and Darren Fullerton, vice president for student affairs patiently stood on stage, no mention had been made of them or the school. Its name didn't even appear on the banners flanking the platform that recognized the contributors.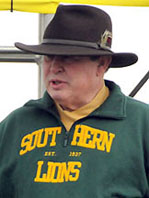 DR. BRUCE SPECK
Therefore, it was a complete surprise to the audience when Speck took the microphone and announced that the school was giving four-year full tuition scholarships to all the families' children. And, by the way, he wasn't speaking through his hat. It had come off and blown away.
While Missouri Southern already had a scholarship program in place after the May 22 tornado struck, Speck conveyed that the school wanted to continue to serve the needs of the community. He called the latest offer to "24" children (one 18-year-old makes 25) an "opportunity" for them "to become future leaders in this community." MSSU was resolved to stop the continuing drain of students who decide to seek their fame and fortune somewhere other than Joplin.
Single mom, Carrie Cook with two boys ages 7 and 8, especially was moved by the scholarship offer. Regarding one her boys' comments, Weren't we going to college anyway?, Cook retorted, "They had no idea how much the scholarships brought that to reality."
(Naturally, students must meet entrance requirements.)
A lot of hugging was going on as the family groups singularly entered the limelight. Each family was greeted by the home's sponsor. Eventually all proudly held up keys for a group photo.
30-minute open houses are held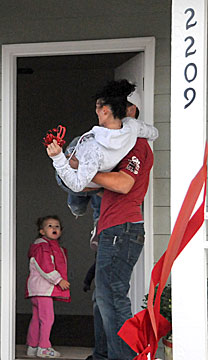 Thomas Short surprises one of his young daughters by carrying her mom Samantha Thurman over the threshold of their new Habitat for Humanity home at 2209 Kentucky in Joplin.
While he couldn't say, "Move that bus," Kent told everyone to "Move your bods!" He encouraged everyone to pay a visit to as many homes as they wished or could during the allotted time.
The layouts differed based upon the number of bedrooms needed. What seemed to remain the same was the kitchen/living area found immediately upon entering the house from very welcoming front porches, some sporting American flags. Praised from a bystander was the addition of a laundry area complete with a washer and dryer...no more heading to the laundromat for these family members.
In a couple of homes children seemed to be preoccupied with showing off the closets (one child had to be shown how to open a bi-fold door). Several children also demonstrated pride over their artwork that had been framed for them to adorn the otherwise starkly clean white walls.
For all, Grace Knoll, 7, summed it up when she told the crowd, "This is a good house!"
For some interior photos go here. For a previous article go here.
The photos below show assembled officials, the families and community members, many of whom were volunteers. They also provide a glimpse into the neighborhood that sits on a rise above the site of the destruction of Joplin High School. Click on any one to start a slide show.