Blunt weighs in on new EPA standards
December 30, 2011
According to an annual report of enforcement and compliance results released earlier in December by the U.S. Environmental Protection Agency, EPA enforcement actions led to more than 1.8 million pounds in pollution reduced, an estimated $129 billion in required pollution controls and approximately $168 million in civil penalties. (For more information go
here
.)
Based upon new EPA data, in Missouri, where there are no limits on mercury emitted from power plant stacks, the power plants emit more mercury pollution than power plants in 46 other states. While the Ameren, power plant in Labadie, Missouri emits the second most mercury pollution of any power plant in the country, coal-fired power plants are the largest source of mercury pollution in the country, with 2/3 of all airborne mercury pollution coming from them. The final regulations affect about 600 oil- and coal-burning power plants in the U.S. that will have three years, and in some cases longer due to special rules, to slash mercury emissions by 90 percent and make deep cuts in the release of gases like hydrochloric acid and metals like arsenic and chromium for which there are currently no national standards.
Speaking on behalf of the EPA, Cynthia Giles said, "Our annual results reflect the fact that a strong and effective enforcement program is good for responsible businesses, public health and communities across the country."
The EPA believes that an increase in utility rates caused by the expense involved in implementing pollution controls will be offset by the decrease in healthcare costs. That may be a hard sell to consumers as it is to those trying to promote business interests relying on cheaper energy costs.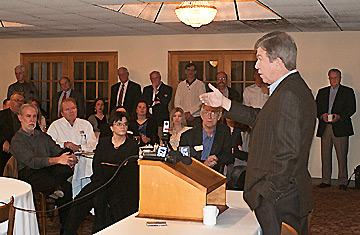 Senator Roy D. Blunt addresses a group of local businesspersons and politicians at a Joplin Chamber-sponsored event. (Photo by Vince Rosati)
Missouri Senator Roy D. Blunt is at least one Republican who does not agree with the EPA's "enthusiasm." The guest of the Joplin Area Chamber of Commerce at Granny Shaffer's on December 29, 2011, Blunt described EPA regulators as "Spaceballs," referencing the 1987 movie of the same name in which he said things happened at "ludicrous speed."
While Blunt, having reminded everyone that he was just a junior Senator, admitted that the Senate is as "dysfunctional as its ever been" and that "all Congress has done is to keep the doors open," he described the regulators as "fully functional." He stressed that increased environmental regulations will harm business development in Missouri, to which he referred as the sixth most dependent state on coal to run its utility plants.
"Double utility bills doesn't make sense," Blunt said referring to the inevitable increase needed to pay for air quality controls. He claimed not to be implying that "what comes out of a smokestack doesn't matter" but that over-regulation could cause companies to look to countries where rules are not as stringent.
The Congressional Review Act allows Congress by joint resolution to override regulations issued by government agencies like the EPA but Blunt reminded everyone Congressional action is subject to review by the President.
"Since he [Obama] appointed the regulators, he is in agreement" [with them], Blunt pointed out. "I'm for voting on all these rules. Many are unreasonable," Blunt maintained, adding that he's challenged EPA Director Lisa Jackson on many of them.
Speaking of a Senate vote, "Sixty is the magic number to get whatever you want done," Blunt said, lamenting that the "Democrats had this number for a while."
As for how the country should be run, Blunt with his viewpoint as a history teacher rather than as a lawyer said it "works on a generational cycle." He said no decision on how to move the government forward has been made since 1980. (Regarding the motives behind the Occupy Wall Streeters, Blunt said that with a cyclical view of history, it was "good to stop and view what's going on.")
"What do we do now?" Blunt asked. Should we be more like Europe? Somehow he connected Greece's economical woes with allowing government to control the challenges of people's lives.
It was a given at this point that Blunt said he favored the repeal of the Affordable Health Care Act, although he believes that it is "highly unlikely" that there will be 60 Republicans in the Senate, the number needed to repeal the bill. "Even if Obama is re-elected, he won't get healthcare reform," Blunt noted, warning that if the Republicans get control of the Senate (with 51 members) they can make sure that the bill is not funded. "The plan doesn't make sense," Blunt said. "Individual states" need to be the ones to "make choices."
Regarding how to get companies to hire, Blunt used the term "certainty," implying that businesses would hire if their profitability were insured. But, he added, that the "shortest path to job creation" was "more domestic energy," and he showed his support for the "20,000 jobs" that he said would be created if the TransCanada Keystone XL pipeline is approved.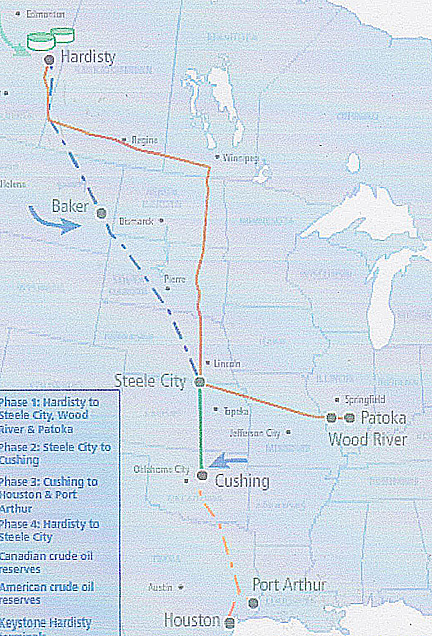 TransCanada Keystone Pipeline map shows the current pipeline (red line) that runs from Hardisty in Canada to the Conoco-Phillips Wood River/Patoka Refinery in Roxana, IL. Phase two (represented by the green line) shows the pipeline from Steele City in Kansas to Cushing in Oklahoma, the location of American crude oil reserves. The dotted blue line represents a possible route from the Hardisty oil terminal through Baker, Nebraska where American crude oil reserves also are located to Steele City and a final broken orange line represents a pipeline that could run from Cushing to Houston. Environmentalists and President Obama at least until after the November election have stopped construction of a proposed pipeline through the sand hills of Nebraska arguing that the Ogallala Aquifer, the supplier of a major amount of water, would be impacted.
In the U.S. there already are 55,000 miles of crude oil trunk lines (8-24") and up to 40,000 gathering lines (2-6").