Security's role in reducing crime is discussed
January 21, 2012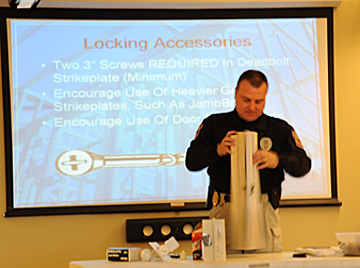 Cpl. Brian Henderson of the Joplin Police Department demonstrates ways to reinforce the wood framing around locks. He was speaking to a group of managers at a new workshop organized to reduce crime on their properties. Certain security measures must be in place before the police department will certified the property as safe.
Crime prevention through environmental design was one subject covered in the first phase of an ongoing Crime Free Multi-Housing Program conducted by members of the Joplin Police Department. Several local property managers convened on January 19, 2012, at Cycle Connection, to learn ways to make their properties safer and consequently to avoid any liability from not acting on this issue.
"Some of our complexes have had high call rates," Cpl. Brian Henderson said. The workshop was part of his crime unit's continuing effort to reduce crime.
Henderson wanted to drive home the message that upkeep was he most important aspect of controlling crime. He mentioned the broken window theory," declaring that one busted window deserves another and one spray painter brings another.
Abiding by the city of Joplin's code means trimming trees five feet from the ground and bushes down to three feet. He showed pictures where the only body part seen behind a bush fronting a window was an arm held high. Criminals look for places to hide that allow them better to break the law, he warned.
Foiling criminals, he said, for obvious reasons also might be by planting bushes near windows that are thorny and substituting noise-free mulch with gravel or rock that signals an intruder when walked on.
Lighting was another area in the environment that demands attention. While Henderson wasn't advocating the use of stadium lighting, he said that directing lights properly can illuminate an area. The requirement is that people must be seen from 100 feet away.
Commenting that it was part of a tenant's rights to have locks and other intrusion-prevention mechanisms in working condition, Henderson outlined the requirements that had to be met. Items that must be installed are deadbolts with a 1" throw fastened by two 3" screws that go into the framing, not just the trim around a door and door viewers that aren't installed so high that an average person can't see through them to the outside. He also recommends the use of a JamBrace, an insert that strengthens the door frame, its weakest point; working locks on all windows; and anti-slide, anti-slip devices on sliding doors.
What police officers responding to a call want to see are clearly identifiable addresses. Holding up a panel on which a selection of house numbers were attached, Henderson asked which one satisfied police requirements. Was it the one with reflective paint? The wooden letters painted black? The fancy one with curlicues? For police shining a flashlight on the number, reflecting numbers were the least desirable, he answered. On this same subject, he said the name of the project should be part of the signage and that a map like the one at the trailer park off of Indiana Avenue was helpful in assuring quicker response.
Other topics covered during the first session dealt with lease agreements, evictions, applicant screening, identification of criminal activity and the role of law enforcement in fostering community group involvement. The next meeting covering additional topics or re-enforcing old ones is scheduled for mid March 2012.