Audience learns about tornadoes
March 07, 2012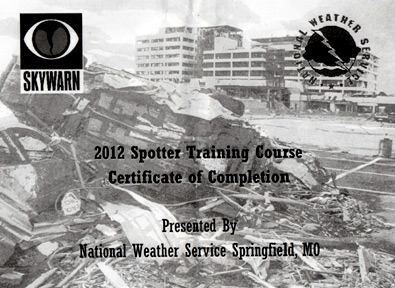 A large number of area citizens joined fire, police and ambulance department personnel at an annual severe weather class held March 6, 2012, on the campus of Missouri Southern State University-Joplin. Steve Runnels, a meteorologist with the Springfield National Weather Service was introduced to the crowd by the Joplin-Jasper County Emergency Management Agency Director Keith Stammer.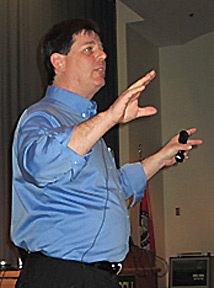 Runnels, pictured at left, cognizant of the concerns of the audience, prefaced his lesson on identifying tornadic activity by discussing weather patterns in the state of Missouri and specifically in Jasper County.
"We got rocked," Runnels said, referring to the weather in 2011 and the 12 storms that caused around $1 billion in damages statewide. He also mentioned that there were 41 tornadoes since 1950 occurring in Jasper County alone, eight in the last decade, indicating the level of threat for those living in this part of the state.
Runnels described the tornado that impacted Joplin as changing wind speed from minorly severe to 200 mph in less that half a minute, impacting 12,000 people who were in its one mile wide path.
"What saved lives?" Runnels asked. He credited spotter information to the weather bureau for providing firsthand information about the multiple tornadic cells that were quickly intensifying. But, on May 22, 2011,in spite of the weather bureau's posting of a red zone over Missouri at 7 a.m. with marks showing that if a tornado struck it was going to be bad, a watch issued at 1:30 p.m., a touchdown about 40 to 50 miles to the east of the Missouri border at about 4:40 p.m., a tornado warning for western and northern Jasper County at 5:09 p.m. and a second tornado warning issued to include southern Jasper County at 5:17 p.m., 161 people were killed, many of them outside of adequate shelter.
"If in a polygram [referring to the notification of impending severe weather in the area], you have to act as if the tornado is coming to your town," Runnels warned the audience. When Doppler radar spots a debris ball, it's obviously already too late.
In discussing impact based warnings, Runnels said that "any additional information enhances response." More than just reporting the facts of the weather, he said that it was the mission of the National Weather Service to protect life and property. He cited social scientists who agree that "people must perceive that the warning is real" and encouraged the use of social media to help the weather service further this response.
Class instruction focused on more accurate reporting of tornadoes. Defining a tornado as a "rotating column of air making contact with the ground," Runnels showed pictures of a squall line with a shelf cloud, and classic supercells with funnel clouds found typically at their rear ends. He wanted spotters to try to estimate the strength of winds and how much damage they were causing, the degree of flooding taking place and the measurement of hail falling in terms of balls or coins.
He brought a smile from the audience by mentioning a report of a funnel cloud near his own house that actually was the exhaust from a nearby power plant. Because of the deviousness of tornadoes Runnels recommended that newbies in identifying them seek out more experienced storm spotters and that everyone take the course numerous times as a refresher.
NOAA weatherband radios to be distributed
Details on the distribution of NOAA weatherband radios will be announced shortly, according to a release by Lynn Onstot, Joplin public information officer. The radios, funded by the Board of Trustees for the Tornado First Response Tornado Fund, currently are being programmed by Midland Radio Corporation to issue National Weather Service alerts for Jasper and Newton counties. Once completed, the radios will be shipped to the city for distribution to residents through Joplin's fire stations.
The quick reference NOAA weather radio frequency for Jasper County through the Avilla (Joplin) transmitter is 162.425 MHz and for Newton County through Neosho is 162.450 MHz.
For an overview of weather hazards in Southwest Missouri and extreme Southeast Kansas as reported by the National Weather Service in Springfield go here.