St. Patty's Day brought out the green
March 18, 2012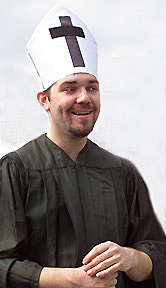 St. Patrick, portrayed by Kevin Provins, a member of the Dream Theatre Company took to the streets of downtown Joplin yesterday (March 17, 2012) to add flavor to the festivities of Way Beyond Events, the organizer of one of, if not the best, St. Patrick's Day celebrations Joplin in recent memory has ever had.
March 17 is the date of the death of St. Patrick, patron saint of Ireland and a holy day of obligation. In Joplin on that day it was a celebration of survival and of Ireland with Shepherd's pie topping the menu at Caldone's, Guinness on tap and loads of green apparel, including shirts that read, "I (clover graphic) Joplin." While we ran into St. Patrick, we didn't come across the leprechaun that was promised, but he could have been there, lifting a pint and having a merry ole time.
The festival, a brainchild of Matt and Lindsey Osborn, the organizers of Way Beyond Events, began with a parade. While no bands performed, lots of honking horns broke the stillness. Lisa Olliges-Green waved from the elaborate KOAM-TV float as well as Mary Anne Phillips, city of Joplin recycling coordinator, on another float who reminded everyone that being green also meant taking care of the environment.
Two block-long limos obscured any passengers inside but might well have included the Anglican Archbishop of Armagh himself. Just a little imagination was needed.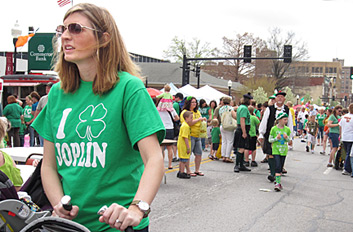 During the St. Patrick's Day festival, people sported other than "I love beer" t-shirts, as shown in this one that recognizes Joplin.
The most popular spot during the afternoon was the tent containing the body painters. Kids lined up for tattoos and hair coloring. Cell phone cameras were poised to capture the heart-shaped design stenciled on the lower back of one teenage boy who wasn't afraid of baring some skin. Other favored amusement for children included a slide, balloon sculptor and sword seller.
The blocks of third and fourth streets welcomed participants with an arbor made of balloons. Lining the curbs were carny games, food vendors and craft booths and a seller roamed the area pulling his cart of Irish paraphernalia. Information booths included one for the Girl Scouts celebrating their 100th anniversary and another for Newton County Rescue and Recovery, called when people don't turn around and wind up underwater.
Rock bands took over for the recorded Irish music that played initially. By noon the area for a beer garden was fenced in. Guests to the ShamROCK Garden were carded but drinking was not a prerequisite; some took part in a modified pong (did not encourage drinking) or a later scheduled bag tournament, while a few sat in overstuffed seats enjoying a puff or two from hookahs.
For interesting St. Patrick stats go here.
Enjoy the photos below taken during the event. Click on any one to begin a slideshow.