Zumbaing the night away
April 02, 2012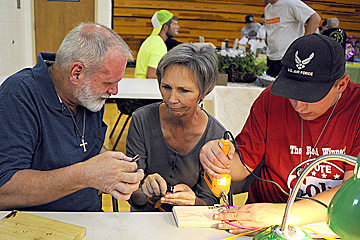 Judy Killion, a volunteer at Watered Gardens, confers with workers who were making lanyards, a product of the Worth Shop that was sold along with jewelry at the 2nd annual Watered Gardens Zumbathon.
"I dance because you're worth it" is the slogan associated with a zumbathon, now in its second year supporting the efforts of Watered Gardens, the 30-bed gospel rescue mission at 531 Kentucky, Joplin. The event that took place on Friday, March 30, 2012, in the Missouri Southern State University gym brought 270 zumba enthusiasts together and raised nearly $8500 to help Watered Gardens expand its workshop.
The Worth Shop is considered one of the most significant means of helping the poor, according to James Whitford, Watered Gardens director, who with his wife Marsha founded the mission about 12 years ago. By creating marketable products, people who might be told they are worthless are afforded a sense of accomplishment.
Simply giving stuff to people strips them of their dignity, Whitford said. The Worth Shop, as the name implies, promotes feelings of worthiness. Products, that were also sold at the zumbathon, may be purchased within the Joplin community at several locations, including The Wild Flower, Upstairs Boutique and Hair Benders.
According to Judy Killion, who volunteers with her husband Tony, assistance offered by Watered Gardens projects has spanned the globe. One memorable project has provided leather-bound art books and supplies for women of Ghana who have lived a life of abuse. Worth Shop workers also have made parachutes which have been used to float Bibles to populations in remote areas.
History and role of the mission
Watered Gardens, a not-for-profit organization, began operations in June 2000 in response to a growing impoverished area population. They claim, based on statistics, that Joplin's chronically homeless population is more than two times the national average and its unsheltered population nearly twice that of the state of Missouri.
With the assistance of members of the local community, including outreach of local churches, Watered Gardens is able to provide needed household goods, a food pantry, showers for street people and lunch on Fridays as well as breakfasts Sunday mornings. Putting people in need with those who can answer those needs has run the gamut of helping someone rid a home of a mouse infestation to providing home repairs to offering transportation for those who otherwise would be stranded.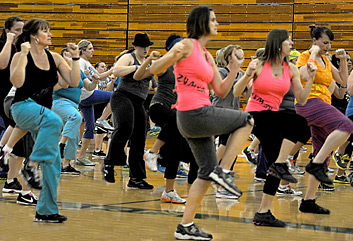 Zumba enthusiasts are shown partying their way into shape and experiencing the latest Latin dance rhythms. They were part of the 270 who attended the zumbathon March 30, 2012, benefiting Watered Gardens.
Watered Gardens Zumbathon
Erica Christiansen, a spokesperson for the planning committee and a licensed instructor providing classes at the Galena 1st Baptist Church, was a bit disappointed that the Watered Gardens Zumbathon didn't reach its goal of raising $10,000. She attributed the shortfall to the economy and to other fundraisers that preceded it earlier in the month.
Christiansen and 14 other seasoned zumba instructors as well as four who hadn't taught before attended the event. They were from as far away as Springfield to the east and Fayetteville to the south. Each provided her own brand of rhythm including salsa, reggaeton, merengue, soca/calypso and cumbia.
The moves were almost non-stop with time-out only for water breaks. A small buffet also was provided with admission.
For samples of zumba music go here. For a selection of photos see below. Click on any to start a slideshow. A CD with about 50 photos on it is available for a donation with proceeds benefiting Watered Gardens. Send a request here.