Joplin Humane Society attracts full house for 2012
April 16, 2012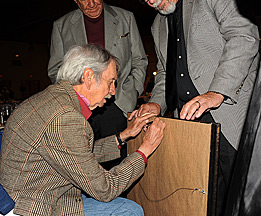 Carthage artist Lowell Davis signs one of two lithographs of his work that were auctioned off at the Joplin Humane Society's 2012 benefit.
The 10th Annual Fur Ball, the benefit for the Joplin Humane Society took place in Joplin on April 14, 2012. Tropical trees set the theme for "Sail Away - South Pacific Adventure" at the Holiday Inn Convention Center where a lucky guest won a cruise to points south including Cancun.
Guests enjoyed casino-style gambling, a chef-prepared dinner and music for dancing provided by Big Smitty. A live auction featured the work of artist Lowell Davis of Red Oak II that he gladly autographed for the highest bidders, his and her leather jackets from Cycle Connection, signed art prints of Picasso's from the collection of attorney Ty Gaither, and, of course, irresistible puppies. Jewelry from the Weimer Estate contributed by Alice Pantoja, a member of the shelter board, highlighted the silent auction, that included a contribution of $250 worth of clothes from Lee.com and memorabilia from NASCAR driver and former Joplin resident Jamie McMurray. The contributor of $500 towards raffle tickets for an iPad 3 was successful, although several people spent several minutes helping him search for his winning ticket.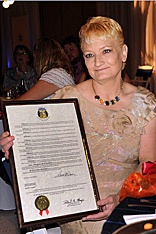 Connie Andrews, director of the Joplin Humane Society holds up the proclamation she received from the Missouri Legislature by way of Senator Ron Richards.
The usual movers and shakers were present including Senator Ron Richard who presented Connie Andrews, director, with a proclamation. Andrews, who was the appointee and friend of former executive director Karen Aquino, was credited with drastically reducing the number of pets euthanized at the shelter. A controversy at the end of 2010 had blamed Aquino, then director, with over-euthanization of the animals. The euthanasia rate at the time was around 50% and may have been attributed to severe budget constraints. It is now about 10% although Andrews wants to see that figure reduced even more. She also was cited for her undue devotion to animal welfare.
"We were really worried about who would show up," Andrews confided. A salute to the Titanic on the 100th anniversary of its sinking was scheduled at the same time by members of the Joplin Museum Complex. However, her fears were misguided.
Photos from the evening appear below. Click on any thumbnail to start a slideshow.