Heirloom seed ethusiasts gather in Missouri
May 07, 2012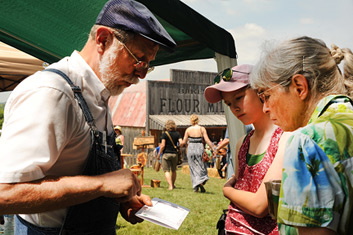 Clyde Majerus of Grovespring, Missouri explains his spring/fall garden planter to a couple of garden enthusiasts at the 12th annual Spring Planting Festival held at Baker Creek Heirloom Seeds in Mansfield, Missouri. His guide shows proper indoor and outdoor planting times relative to spring and fall killing frost dates for 21 common vegetables and provides basic planting data for the entire growing and harvesting period.
City slickers that we are we almost turned around rather than preceding down what seemed like an interminable dusty road. Cars had backed up for what may have been a couple of country miles while attendants were directing the lead cars to parking spaces in an open field.
What was dubbed as "America's largest heirloom planting event" was no exaggeration. The event that had started out attracting a select group of neighboring gardening enthusiasts now was bringing in out-of-staters caught up in a trend of growing heirloom plants, cultivars commonly found in earlier periods of history.
The Spring Planting Festival at the Bakersville Pioneer Village in Mansfield, Missouri took place on May 6 and 7, 2012, on land once cultivated by the Rippee family. They had come to the rolling hills of the Missouri Ozarks after the passing of The Homestead Act in the 1880s to raise many varieties of produce and livestock and had become proficient in the production of local crafts.
The event begun a decade ago by Jeremiah Gettle (known as Jere) and his wife Emilee to bring gardeners together has turned into a mega attraction for just plain folks not only wanting to purchase a unique plant but also during festivals to enjoy the old-time music experience that is offered and browse the craft booths that included the maker of inlaid rolling pins and cutting boards, a flute and cane maker, things made from gourds, hand-made clothing, toys and soaps, accessories and foodstuffs. Darn was my reaction to seeing a bare space on a table that had sold out the difficult to find Pee Gee, hydrangea plant. But many people were dragging little wagons filled with a variety of seedlings to their liking.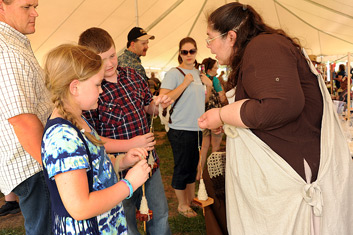 Tanya Trujillo of Centralia, Missouri, at right, satisfies the curiosity of two youngsters as she demonstrates what can be done "In a Twist" using wood, wool and wire. She was one of the crafters at the Baker Creek Spring Planting Festival recently held in Mansfield, Missouri.
Jere Gettle, originally a home-schooled phenom from Montana, promoted a hobby growing veggies with interesting histories. In 1998, at 17, he printed the first somewhat small Baker Creek Heirloom Seed catalog. Now the company mails out on average 310,000 catalogs a year, nearly 200 pages of seeds promoted by startlingly realistic photographs.
Other projects in which the Gettles are involved include distribution of Heirloom Gardener magazine in its eighth year of publication; a seed store in Petaluma, California; restoration and preservation of the Wethersfield, Connecticut landmark, Comstock, Ferre & Company, the oldest continuously operating seed company in New England and writing several books. They work extensively to supply free seeds to poor countries throughout the world as well as non-profits domestically.
The Gettles attract others like themselves who passionately oppose genetically modified seeds. Don't drop the name "Monsanto" and not expect a heated defense of the local food movement. All seeds are non-hybrid, non-GMO, non-treated and non-patented and often collected by themselves during travels abroad.
The Baker Creek Seed store now stands where the Rippee family's market garden once was. Part of a typical historical town, it now is surrounded by a speaker barn, mercantile, apothecary, bakery, blacksmithy, jail and hotel restaurant run by donations where we enjoyed an Asian-themed vegetarian meal to the accompaniment of a wonderful ragtime pianist.
Seed donation requests--types of seeds not specific varieties--may be made by qualified non-profit organizations. Provide 501 (C) number and physical address not post office number to Baker Creek Heirloom Seed Company, 2278 Baker Creek Rd., Mansfield, MO 65704 or by fax to (417) 924-888. To request a 2013 catalog go here.
The adventure of the Spring Planting Festival is captured below. Click on any thumbnail to start a slideshow.