Photos depict living through tornado
May 19, 2012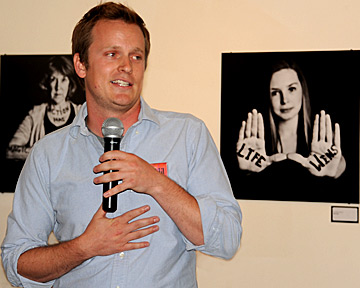 Robert X. Fogarty, a photographer from New Orleans, speaks at the opening of his creative exhibit, "Dear World" at the Spiva Center for the Arts.
"Dear World, From Joplin with Love," is a powerful exhibit that focuses on storm-affected residents, first responders, volunteers and city officials who consented to be photographed mostly in sessions at the Spiva Center, some elsewhere, sharing their thoughts and feelings. How they did that was the creation of photographer Robert X. Fogarty who came to Joplin last April accompanied by writer Adam Karlin and production manager Jonny Rosenbloom. The three New Orleans artists invited people to sit for portraits and provide them with open and honest messages for viewers' eyes. The messages weren't oral renditions, they weren't copied to cards to appear next to their photographs. They were applied directly to whatever body part seemed appropriate, in a unique style of verbal tattoos. Some messages were intimate and personal, others were tough and directed at survival from a tornado whose power was off the charts.
"There were messages of gratitude and hope, messages of defiance, messages of strength--all radiating a powerful, peaceful, 'we have survived' energy," said Jo Mueller, Spiva director. "We see this exhibit as another way to help Joplin heal."
The images are being displayed with a shoebox exhibit containing objects individuals saved from the storm. Examples of the recovered keepsakes that are being shared include a distorted hammer that showed up in a destroyed home from who knows where, a decapitated sculpture whose body sat in tact on a counter, a leather-bound family Bible amazingly theirs and a silver rattle of inestimable sentimental value that had been stored and forgotten but was found in a pile of rubble.
There definitely was a spiritual presence in the room as visitors interacted with the exhibit. And you might believe me when I tell you that one was captured digitally.
Photos from the Storm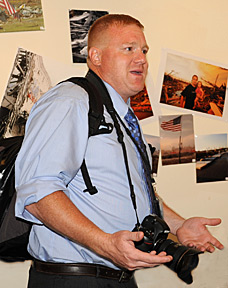 Free-lance photographer B.W. Sheppard explains how the pathos shown in the photo, top right, that he took the evening of the tornado, makes it his favorite.
Free-lance photographer B.W. Sheppard's photos were among the 55 submitted that randomly are being displayed on the walls of the Regional Focus Gallery of the Spiva Center for the Arts. The exhibit, sponsored by The Joplin Globe representing the work of both amateurs as well as professional photographers captures scenes of devastation and survival in the hours and days following the horrific F5 tornado that slowly moved through the center of Joplin on May 22, 2011.
Talk to Sheppard and he will tell you that he had to make a most wrenching decision that evening--to put down his camera and try to assist people or continue doing what he was trained to do--document the storm. He admits that the decision was not an easy one to make.
While scanning the photos, sit on the nearby bench and listen to the Jasper County Emergency Services (JASCO) transmission that is replayed for you--from the time the tornado is spotted to the realization that many people have been either injured or killed. It is heart-wrenching.
Well-known artist contributes work to benefit the Spiva Center>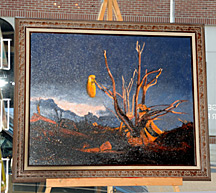 Texas-based nationally-known artist Bob Tommey has contributed a painting depicting the aftermath of the storm that is being auctioned off to the highest bidder. Opening bid is set at $1500. All proceeds will benefit programs at the Spiva Center. For more information phone (417) 623-0183.
"Dear World" and "Photos from the Storm" will run until July 13, 2012. Gallery and gift shop hours are 10 a.m. to 5 p.m., Tuesdays through Saturdays; 1-5 p.m. on Sundays. Admission is by donation. The Spiva Center for the Arts is located at Third and Wall in Joplin. Parking is available in the rear (access from Wall, one way north).
Photos from the opening appear below. Click on any thumbnail to start a slideshow.