Frankie shares her life story
May 30, 2012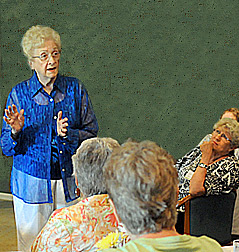 Long-time Joplin resident Anna "Frankie" Hale recently reminisced with members of the Joplin Area Welcome Club at a luncheon held at Twin Hills Country Club in Joplin. (photo by Vince Rosati)
"Isn't it any wonder why she came back to Joplin? She's part of history" were words spoken by a member of the Joplin Area Welcome Club at a recent luncheon. She was referring to Anna Hale, better know as "Frankie," the guest speaker at the event.
Some of Hale's family came to Joplin from Springfield, Missouri in 1895 in a covered wagon. Taking three days to accomplish what now can be done in a bit over an hour, their journey required forging their own roads and spending time looking for water. Not unaccustomed to travel hardships, she said her ancestors rode the Trail of Tears; her maternal grandmother, who had married a German immigrant, had Choctau/Cherokee lineage.
The early relatives lived in a tent city on Rex Street, just east of Range Line Road near the current location of Battery Outfitters. Their water supply was a nearby spring.
Her father, she said, came from Texas and became one of the major landowners on what is now the eastern end of Joplin. He was very prejudiced, she said. She told how he had sent away the worker, "a colored man," her mother had hired to help lay a water line by hand at their home. By the way, he was only going to be earning $1 a day for his efforts as contrasted with those she said working at Eagle Picher who were considered "top of the line," but just earning twice that. She still lives in that rock house near 8th and Range Line that once took 10 tons of coal to heat during cold weather. And, she made the point of showing that she was not prejudiced like her father.
An only child growing up, Hale admitted that she was spoiled by her parents, but not as spoiled as someone going to private schools today. In 1932 she said she attended first and second grades in Duquesne (and later grade school at McKinley). She described her first school as having an outhouse and a pump with an attached tin cup that everyone used, although her mother cautioned her about drinking from it.
Her memories include a 2-cent evening bus fare as well as 2-cent milk supplied by Mrs. Roosevelt's pet project for those who could afford it; free milk for those who couldn't. She said she wore her cotton stockings pinned to her underwear and in school she got her stockings dirty from the oil-rubbed old floors.
The Pinkerton Mine was the one she recalls in the area just east of Range Line. Kids at the time were warned about going near the tunnel that runs under Rex to 7th Street. But, she said, it was where they could best collect scraps of ore for 5-cents a bucketful.
She remembers bringing back ice cream cones from a factory at 8th and Range Line Road that usually turned to soup. It was when Range Line was a gravel road. She wished she could show everyone the covered blue hen mustard jar, a cherished family keepsake that had been purchased for 15-cents.
An uncle, she said, used to work for Charlie Wilder who raised goats near 7th and Geneva. But Wilder's barn was used for more lucrative pursuits during prohibition. She remembers him giving her mom a jugful.
Apparently, her mother, who lived to be 93, was quite an entrepreneur. During World War II she owned a paint/wallpaper store on 8th and Main that was in competition with Quisenberry's where her mother often sent her at the tender age of 10 to comparison shop.
Thinking about downtown reminded her of the houses of prostitution that flourished there. But, she didn't have too much to say about that.
When her mother sold the store, she took the proceeds and traded in commodities at a local brokerage house frequently used by her husband.
"She did very well until she lost $40,000 after Dad died," Hale said. However, it was obvious she was very impressed by her's mother's gumption and business skill that she eventually inherited. She spoke of her mother having managed the Liberty Building, (now US Bank on 4th & Main), 22 offices on eight floors built in the early 1920s.
And she has a story for how she met her husband on a blind date, even though as it turned out she knew him since grade school. He apparently was the one always pulling her long blonde curls and one of two boys fighting over her. Her comment at the time over being referred to as "my girl" was, "I was nobody's girl."
At first sight, her date, a friend's friend from overseas, recognized her instantly and asked what she was doing there. "I came to meet a good looking soldier," Hale told her husband-to-be. "Well, here I am," was his reply. They married in 1949.
Hale knows where she was when President Kennedy died: she was taking a real estate exam in Jefferson City...and praised for getting a perfect score on the exam. Hale currently happens to own and manage 53 rental properties in the area.
Hale's daughter, a flight nurse in the air force, broke the chain of being an only child. She and her husband have three children.
While Hale wanted to raise her daughter in Joplin--what she considered "a small town with good atmosphere," her daughter was of a different mindset. Hale called the Washington, D.C. area where her daughter now lives the "tail end of nothing."
Now a spry, obviously feisty 86, Hale, is reminded of her days away from Joplin. "I cried five gallons of tears," she admitted, thinking about times spent when she lived in Texas.