Benefit for autism brings in over $15,000
June 04, 2012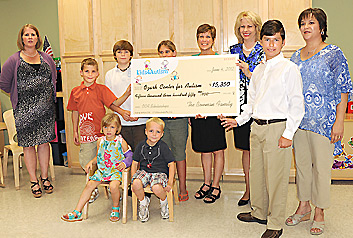 A Kidz4Autism check presentation took place at the Ozark Center for Autism in Joplin. In addition to five kids who volunteered, from L-R are clinical directors Jennifer Kirby and Heather Collier, Freeman Health Systems CEO Paula Baker, sale promoter Niko Bowman and his mom Tania Bowman. The sale held at the Joplin Museum Complex raised $15,350 to benefit the Ozark Center for Autism Scholarship Fund.
Niko Bowman had his moment of glory today (June 4, 2012) when Paula Baker, president and CEO of Freeman Health System, called him a "trail blazer for autism awareness." Autistic himself, Niko pushed his parents Tania and Kevin Bowman, until they agreed to organize a sale to benefit autism that rivaled the one held in their garage the year before.
From the confines of a three-car garage to a 4,000 square foot room at the Joplin Museum Complex, the sale attracted 1300 shoppers and brought in $15,350.50 for the benefit of the scholarship fund of the Ozark Center for Autism, a facility formerly located at 2411 Jackson Ave. in Joplin that was destroyed by the 2011 tornado.
Baker, who was the president and CEO of the Ozark Center, the behavioral health services arm of Freeman that founded the center for autism in 2007, praised Niko Bowman for his efforts in publicizing the importance of early intervention and treatment for autism, a development disorder appearing in the first three years of life that affects the normal social and communications skill development of the brain.
Addressing Niko Bowman and others attending the check presentation, Baker said she had no doubt that he will "play a key role in treatment" of the abnormalities of autism, the exact causes of which currently remain unknown.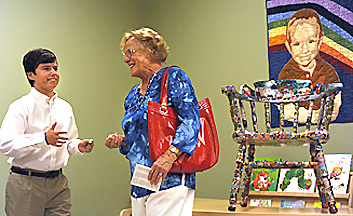 Niko Bowman, at left, presents a pin to Jane Carter in recognition of her and her husband Lewis' donation of a decoupage chair that has an autism theme. Brad Belk, director of the Joplin Museum Complex was among those also presented with a pin.
Tania Bowman praised her son's insistence on increasing profits by making the sale bigger. "When you have a kid like that who's pushing you, you can't say no," she said, adding that what was initially a "family thing" turned into a "community thing."
Niko's unabashed response was, "Go community!"
With the addition of teens and adults in the program that began by serving pre-schoolers, Jennifer Kirby, clinical director, said the facility is "bursting at the seams." But thanks to a $3 million donation made at the end of 2011 by Virginia and Bill Leffen of Joplin (he's a former chairman of Commerce Bank and she, a retired interior designer), a state-of-the-art center will be reconstructed at 2808 S. Picher Ave. in Joplin and renamed the Bill and Virginia Leffen Center for Autism. It is still in the planning stage.
So, right now they have to make due with what they have. A quick tour of the temporary center located at 3230 Wisconsin Ave., behind Health Essentials in Joplin reveals a well organized program in the limited space available. Younger children begin the program alone with an ADA staffer in a small room without distractions, then graduate to a shared room. Their learning experience culminates with exposure to a spacious playroom with large scale play equipment.
The program also helps parents cope. Regarding Tania Bowman's reaction to discovering that her son was autistic, she said that first there's shock, followed by a grieving period, then taking what you have and making the most of it. Her involvement attests to her dedication to sharing what she's learned by helping others to adapt.