Mural to include snapshots submitted by community
June 29, 2012
UPDATE: The winning design is the one by Emma Gustavsson of Joplin (writing).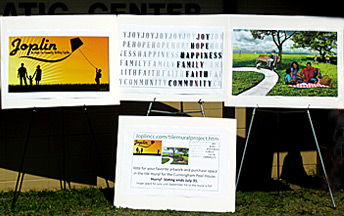 One of three graphic arts students from Missouri Southern State University in Joplin will have her work chosen for the next Arts Building Community project. The community will choose one of the three designs pictured to become part of a mural located on a wall at the rear of the Cunningham Park Aquatic Center
The Joplin Area Chamber of Commerce has selected the work of three Missouri Southern State University students as finalists in a competition that will determine what appears in a mural on the back wall of the Cunningham Community Center. The work of Sarah Hall of Eldorado Springs (picnic), Emma Gustavsson of Joplin (writing) and Debrah Schmidt of Monett (Joplin), all students of Devon Estes, an assistant professor of art at Missouri Southern State University, will be entered in a final contest in which computer users have the opportunity to vote for their favorite design.
"This is something very meaningful to these students," Estes said. "It's not often the opportunity comes along to have a design concept result in something that could be seen by so many people."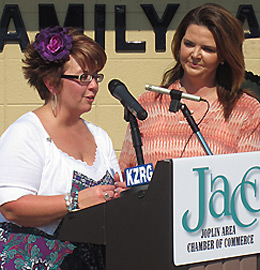 The three designs were introduced to the media at a press conference this morning (June 29, 2012). Cultural Affairs Committee co-chairs Cameo Gerdes and Becky Brill, pictured L-R, announced the project as well as a calendar of events--dance, music, theater and visual arts--(see what we've posted for July) that dispels the notion that there's nothing to do in Joplin.
Part of the Cunningham project includes the submission of photos from the community. These photos that will appear as ghost images along with the winning art, according to Gerdes, could represent family, pets, kids, grandma and grandpa and friends--whatever memories anyone would like to preserve. The committee is asking for a $20, $40 or $60 donation to accompany each photo, monies that will be used to finance the project as well as the next art project that will be planned.
Photos and donations will be accepted at the chamber office, 320 E. 4th Street, although photos cannot be returned. Images must be at least 3" X 5". Digital photos are preferred and may be submitted on the chamber website along with your vote. No deadline has been announced for submission of photos.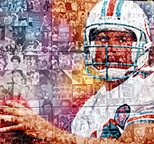 Collaborating in the project is Images in Tile, a Joplin company that created a custom tile mural design for the living room fireplace of one of the Extreme Makeover homes erected in Joplin last October. Paul Whitehill, owner of the company, outlined how a 7' X 100' mural might be constructed that would include the photos submitted by the community. He described how his company had created a special mural, pictured at right, for legendary NFL quarterback Dan Marino in which he was asked to stitch together photos of significance to Marino.
Everybody was affected by the tornado, Whitehill said. He hopes that the photo project will bring the community together. He expects that the project would take 60 days to complete.
To vote for your favorite mural design go here. The deadline for submitting a vote is July 31, 2012.