Tornadic winds blew in more money
July 10, 2012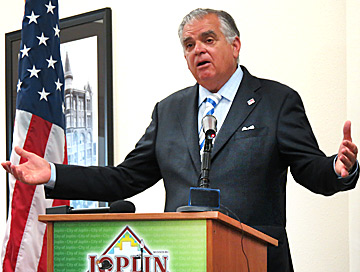 U.S. Transportation Secretary Ray LaHood, pictured, brought great news to Joplin residents when he announced that the city had won a $12 million TIGER grant.
A brief history...
When Joplin City Manager Mark Rohr in October 2009 was asked about remediation for noise created by passing trains, he replied, "We have done some research into the matter and Public Works is developing a file for possible implementation." His remark was in response to a query posed by the JOPLIN INDEPENDENT. The city of Neosho just had announced their move to create a "quiet zone" within its borders after making major safety improvements to all railroad crossings.
About a year later in the fall of 2010, a railroad bridge was constructed over the lanes of traffic on Connecticut Street as part of that street's major widening. It brought a bit more peace and quiet to a row of nearby houses that backed up onto the railroad right of way as well as two church schools located in the vicinity of the passing tooting trains. However, this noise remediation was just a drop in the bucket compared to what the city of Neosho had accomplished.
In May 2011 the tornado struck Joplin creating the vast wasteland that caused significant hardship to thousands of families. The structures and trees that had acted as a noise barrier were destroyed and now the sound created by passing trains throughout the day and night could be heard by people living over a mile away from the tracks.
In response to the tornado's destruction, a Citizens Advisory Recovery Team (CART) headed by Jane Cage presented a "Listening to Joplin" report to the Joplin Council with suggestions on what direction Joplin should go in its recovery efforts. One of the suggestions scribbled on a white placard left by a citizen was that no amount of beautification or special planning could be successful as long as train whistles were allowed to wreak havoc on the peace and quiet of the citizenry. (One fearful conductor had confided that he leaned on the horn with steady pressure until leaving all the cross streets where cross arms did little on many occasions to stop traffic.)
These dots represent the 2012 TIGER awards. An orange dot is an urban award, a green dot is a rural award. (Chart by U.S. Dept. of Transportation)
A $12 million grant was awarded to the city of Joplin to fund transportation and disaster recovery projects. The announcement of the grant, only one of 47 transportation projects in 34 states and the District of Columbia to receive funding under the U.S. Department of Transportation's highly competitive TIGER 2012 program, was made today (July 10, 2012) at city hall by U.S. Transportation Secretary Ray LaHood. The grant is earmarked for construction of two highway overpasses above the Kansas City Southern Railway line at 15th and 20th streets.
The city of Joplin in its grant request identified the project as critical to helping its transportation system recover following the May 2011 tornado. The city also cited the increase in economic activity that would be created in Jasper County by creating new construction jobs and the reduction in fuel usage and improvement in air quality by reducing idling time for vehicles waiting at grade crossings. (Apparently, no mention was made of sleep deprivation that might contribute to increased cost of health care but we consider it no less significant.)
Joplin Mayor Melodee Colbert-Kean called receiving the grant a "major thing" for Joplin regrowth. While initially receiving flak from some cost conscious (narrow-minded) local citizens who had questioned the expense account she submitted for travel, the mayor was congratulated by LaHood for her decision to attend a national Conference of Mayors where she was able to learn about the TIGER program.
Joplin was the only recipient in the state of Missouri to be awarded funding from a total of $1.5 billion provided for TIGER by the Economic Stimulus Bill sponsored by President Barak Obama in 2009. The program following Obama's concept of "building an America that lasts" had $500 million to disperse in 2012.
In referring to "those who said the Economic Stimulus didn't work," LaHood replied, "that's baloney!" As a spokesperson for Obama, he cited the creation of 65,000 jobs in a total of 15 projects.
Over 700 applicants in 2012 asking for $10.2 billion showed the "pent up demand for infrastructure improvement," LaHood pointed out. He labeled TIGER funding the way communities can satisfy their "creative juices" when they "can't find any other pot of money." He signaled Joplin out as "embodying the American spirit," its perseverance and its ability "to come together to rebuild."
The TIGER program awards grants to innovative programs that are difficult or impossible to fund through other federal programs. These federal funds are said to be leveraged with money from private sector partners, state and local government funding and other organizations and agencies. Joplin's total project cost is estimated at $23,500,000.
Major recipients of TIGER grants include Texas with a total of $37 million and California with a total of $40 million, both for three projects each. To see all the recipients and a description of each project go here.