A jaunt through the Ozarks...with my cellphone off
July 11, 2012
Those who carry around a cellphone might want to check the status of Senate Bill 1212, the Geolocational Privacy and Surveillance Act sponsored by Sen. Ron Wyden (D-OR). His bill and a similar one pending in the House, would require a warrant for requests for location records from telecommunications companies. The
New York Times
recently revealed that these companies had received approximately 1.2 million requests in 2011 alone from law enforcement agencies for such information. I guess that's how criminals have learned to toss the cellphone to put law enforcement off track...at least that's what I learned from
Law and Order: Special Victims Unit
, one show to which I'm occasional drawn.
If I were being tracked recently, law enforcement would have discovered that I entered a cave recently in Arkansas. Blanchard Springs Caverns is located in Fifty-Six, Arkansas, a town that wanted to be called "Pleasant Hill" but couldn't because it already existed. Legend has it that it was named after its school district number, but I don't know for sure. If I didn't know better I'd say it's a new caliber of bullet. This here's gun-totin' country.
Fifty-Six also has a commendable restuarant named Cody's, commendable because Tyson had no influence over the fresh-killed chicken dinner I ordered, commendable also because the meal was not only delicious but less than $6. (Per capita income in this area doesn't reach $20K.)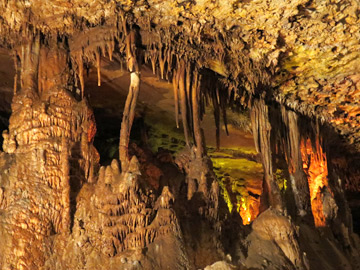 A storm was brewing when I entered the lobby of the Blanchard Caverns manned by the U.S. Dept. of Agriculture/Forest Service/Southern Region. I was told that this agency was given precedence in maintaining the cave over the National Park Service because they were already in charge of the land above it. Other agencies that might be interested in cave management include the Bureau of Land Management, the EPA, the U.S. Fish and Wildlife Service, the USGS and the National Cave and Karst Research Institute. Are you thinking government is way fatter than the lady who took up a seat and a half next to you on your last plane trip?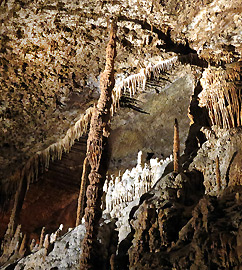 With lightning and thunder crashing all around and the power somewhat intermittent, I and a group of visitors entered the elevator that took us to an air lock before entering the cave. A Forest Service guide had explained that no one should be in our party who had visited a cave in the last 10 years to avoid contamination of the bat population. White Nose Syndrome was the cause for closing many caves in the Ozarks, including in Missouri known as the Cave State (with about 6,000 caves). However, Blanchard Caverns remained open. And, yes, the power remained on during the elevator ride.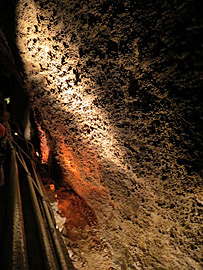 I chose a tour of the Dripstone Trail, about a half mile trek without steps through areas filled with a large variety of crystalline formations, sparkling flowstone, towering columns and delicate soda straws. (I was told the other tour took visitors to a newer part of the cave and consequently less exciting to a non-geologist such as myself. At one point during the tour our guide pointed up and said the material there was chert, something Joplinites think they have a monopoly of. He called the chert "Arkansas flint," but I suspect discovery of it isn't exciting unless found shaped as an arrowhead.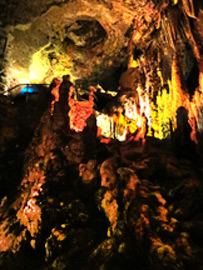 I took quite a few photos of the cave which I discovered brought to mind some of the paintings created by my friend Adele Thompson. The random colors, textures and shapes were quite exciting and took the imagination on a fanciful trip.
Moving on to Mountain View, Arkansas, I never did discover why it is called the "Folk Music Capital of the World." The weather was still rainy, not appropriate for sensitive musical instruments. And it became Monday, a day when the Ozark Folk Center only provided an open crafts store. Oh well, I'll save the destination for another day.....but eventually I will tell you about my stay at the Inn at Mountain View.