Frenchman wins Men's Futures Tournament in Joplin
July 22, 2012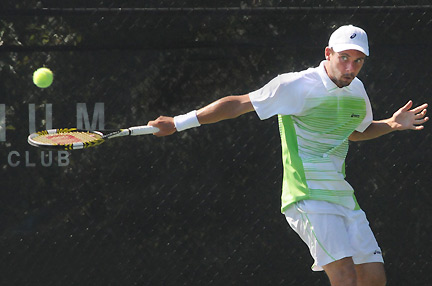 Sebastien Boltz sets up a defensive lob during his match with Darian King at the Millennium Tennis & Fitness Center in Joplin.
by Mari Winn Taylor
The Millennium Tennis and Fitness Center played host to the 2012 Freeman $10,000 Futures Men's Tournament with a week of tennis in scorching heat. In a finals match today (July 22, 2012), Sebastien Boltz of France, seeded third, defeated the number four seed Darian King of Barbados. The score was 6-3. 6-3.
King kept even with Boltz during the first seven games of the first set, each enduring long service games in which both exchanged picture perfect topspin ground strokes. However, after missing a shot at net in the previous game, King seemed to unravel when Bolt's change of pace forced quite a few return errors. Bolt preceded to win the first set with a drop shot winner; King was issued an abuse warning for taking his anguish out on his racquet.
Claiming bad line calls, King opened up the second set by double faulting twice and losing the game. Boltz, on the other hand, seemed to be cool as a cucumber as his opponent with sweat pouring from this body looked to the heavens for guidance. King seemed to help himself by gaining control of the net but his game still remained inconsistent.
"Wow," the crowd, safely sheltered from the sun on Millennium's balcony, shouted in disbelief as King hooked an overhead into the ground. "Yeah," when he again took over the net and went on to win the third game of the set.
At 30-15 in what turned out to be his final service game, King sent a backhand into the net. The score evened at 30-all when a ball struck by King hit the top of the tape, hesitated just a moment, and then fell onto King's side of the net, always a devastating blow to one's confidence. It sort of says, "the writing's on the wall." King eventually sent his final shot of the set into the net.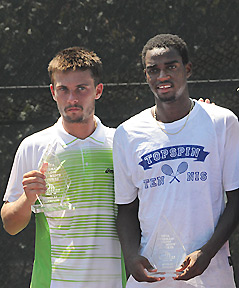 Holding their respective trophies are winner of the 2012 USTA Freeman $10,000 Men's Tournament Sebastien Boltz of France and runner-up Darian King, a Davis Cup player for Barbados.

When questioned as to why he began the second set wearing a notoriously hot dark black and red shirt and still wearing no hat, King answered that he was from Barbados. He could handle heat. As for the choice of shirt, he said it was his "last one."

What tore at his strength and reserve, King, 19, said, was having played a doubles match a couple of days ago. He and his partner, number two seed Yuri Bezeruk of Australia, lost after playing a 24-point tie-breaker in the final set of their championship match with number one seed Harrison Adams, 18, and Shane Vinsant, both of the United States. Vinsant, 18, a recent high school graduate from Keller, Texas, has a letter of intent to play for Texas A&M. The score in favor of Adams and Vinsant was 6-3, 2-6, 7-6 (13-11).

After winning the match, his first win in the U.S., Boltz, 19, was asked by TV media what his goals were. The native of Ormesson sur maine, France, looked dumbfounded, although with further explanation (objectifs - why do Americans think everybody speaks English?) he admitted that he would like to play at Wimbledon.

"My best surface is hardcourt," he said.

"I know where I'm going" is how Boltz' traveling coach described the successful win. Boltz, he said, displayed, "mental strength."

In the ITF Futures Boltz has a career record of 20 wins and 27 losses, gaining one other final, but not the winner.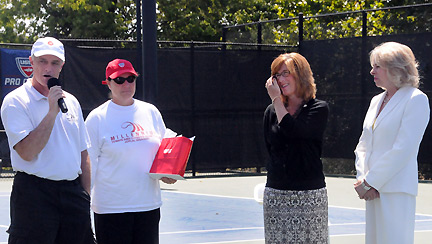 Brad Bigando, general manager of the Millennium Tennis & Fitness Club and Marianella Padron, executive director of tennis prepare to present Jenni Debartolo, chief people officer for Children's Miracle Network Hospitals and Paula Baker, president and CEO of Freeman Health Systems, the only CMN hospital in the area, a check for $10,000, net proceeds from the USTA Future's Men's Tournament played in the Joplin club July 13-22, 2012. The tournament was played after a hiatus of one year. In the summer 2011 the event was canceled due to Joplin's F-5 tornado having occurred the month before.