Facing disaster and becoming survivors
July 24, 2012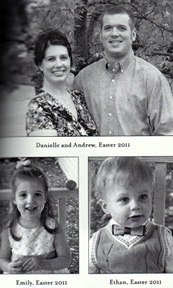 Meet the smiling Stammer Family, Danielle and husband Andrew, Emily at age 3 and Ethan at 17-months, Easter/April 2011.
What happens when you haven't been paying attention to the weather forecast and suddenly the possibility of a tornado is imminent? Such was the scenario facing the Stammer Family--mother, father and two children--on Sunday, May 22, 2011, a situation not uncommon during that fateful day.
Danielle C. Stammer in her riveting story written in the third person almost a year later details the effects on her family from the most horrific storm that divided the city of Joplin in two and caused the deaths of 161 people. Singing Over Me attempts to answer these questions: Was the outcome fate or divine intervention and when does the grieving process over a life torn asunder end and dreaming once again take over?
But the book is not just a personal account of survival and coping. Says the author: "I am writing for everyone who lost something on May 22nd and for those who are going through grief now. I am encouraging everyone to tell your story now."
What is most interesting about the author's writing style is the way she juxtaposes time. She sets the scene before events occur--for instance, how on May 21 the house is filled with family--children playing on the outdoor swingset, a description of her daughter Emily's glowing purple room and her mom rushing back before departure to give her daughter a forgotten hug.
And before the reader forgets about how nice it was to bask in the sunshine of Emily's room as she is observed sleeping soundly, Danielle jumps to one day after the tornado, introducing the reader to emotions--some irrational and almost uncontrollable, others brought on by having visited her home impacted by the storm's fury.
Her husband Andrew, we learn, had been taken to a hospital in Kansas, fortunately to be released with more minor injuries, but taken to her sister's home to spend the night. Danielle will play with our emotions while she seems to grapple with her own, eventually telling us what led to his injuries but in due time.
Just the date titling chapters 3 and 4, "Sunday, May 22nd" is enough to raise emotions for readers who did not escape the fury of the storm or for others who lived through it vicariously. Apparently, the sirens sounded at 5:10 p.m. when the Stammers were all in their car minutes from their destination just north of Joplin. Convinced by a cellphone call from his father-in-law Karl, Andrew turns the car around and heads back to Joplin, the path the combined cells would soon take as reported by a second more accurate phone call from Karl.
"Some decisions are unforgettable," Danielle writes, nervous as her husband decides to go home first to grab important documents and their laptops. At the sign of huge hail, she convinces her husband to get back into the car. It was his decision to head for St. John's rather than Freeman Hospital further south; as a newly hired St. John's nurse, he thought he owed his loyalties there.
Danielle screams at Andrew to head for Freeman but to no avail. Her plea is too late.
By now, the reader must be saying, "Oh, my God, how did they ever survive the decision to go to St. John's, one of the worst places to be when the force of the F5 winds hit. And so far, no mention has been made of the children. We are told how relatives frantically are searching for all of them with telecommunications down and the streets in shambles.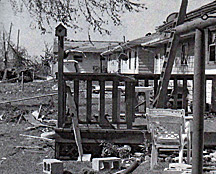 A railing from the deck of the Stammer home is used as a temporary ladder to reach the roof where volunteers placed tarps. Nothing had prevented water from seeping through the lighting fixtures and damaging the home's hardwood floors and its contents.
In another interposed chapter, we are told that Danielle and Andrew are walking through the ruins of their home, coming upon the rose that he had stepped out of line to give her during his pinning ceremony at St. John's on May 21. It sat undisturbed in a vase where it had been placed on a shelf, leaving the reader to marvel why or how it could have survived.
"The rose was now in full bloom," Danielle writes, "which was in stark contrast to the exposed ceiling beams, bleeding insulation, framed behind it." That she was able to see the positive symbolism in the rose's survival was she able to finally address what befell them at St. John's.
Images of the exterior of battered St. John's in a field of twisted metal and smashed vehicles were familiar to anyone following the news. But what those inside the building experienced was less familiar.
Danielle finally describes a harrowing scene. With the wind circling through their van that Andrew hurriedly has parked under the awning of a glass entryway at St. John's eastern basement entrance the Stammers each carrying a child head for what should have been the sliding doors that usually opened welcomingly.
St. John's was in lockdown. Somehow Andrew had to thrust his shoulder into the door frame until it came off its track and before the glass became lethal missiles.
The author writes: "Panic clouded Danielle's mind as she scanned the room, looking for anywhere to protect her babies from the glass that would soon give way to the wind's pressure. Everything was quiet in her mind as the storm had reached deafening screams."
The Stammer's van remains upright after the tornado at the east entrance to St. John's. It was a door here that Andrew had to dislodge from its frame in order to gain entrance to the building just seconds before the worst of the storm hit.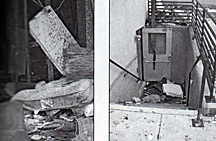 At left, a florescent light box dislodged from the ceiling came to rest on what was somebody's mattress. Danielle and Ethan were wedged between the mattress and windows where they were protected from dangerous debris. At right, It is at the base of these steps at St. John's that Andrew with one hand gripped to the stair rail and the other clinging to his daughter Emily tucked under him endured the storm.

Inside the hospital the Stammers survival hinged on what debris fell to protect them. For Andrew and Emily breaking into the hospital did not guarantee their safety as winds that whipped through the exit door picked up Andrew's 6' 4" frame, causing him to fly through the air with his daughter still clutched in his arms.
The author writes:
"Luck is something to which the superstitious attribute their destiny...In fact, Andrew himself would later think back on this day and concede he was lucky, but Andrew is also a man of faith. He knows that God is the final author of our stories, and in that moment heading toward death, Andrew instead slammed into the door frame and somehow found himself crumpled outside at the base of the stairwell leading up to the main level parking lot. He was on the bottom stair with Emily safely tucked under him."
Andrew then searches successfully for his wife and son and remains in shock until realizing he needs to seek medical attention for his injuries. He and his family soon after begin a long process of healing.
---
About the author--
Danielle (nee Otto) Stammer was born in Jefferson City where she attended public schools through high school. She moved to Joplin in order to enroll at Ozark Christian College. During her college years she met and married Andrew Stammer. They lived in several locations, including in India where Andrew completed his first year of nursing school and their daughter Emily was born. They moved back to Joplin so that Andrew could complete his degree at Missouri Southern State University, what he had accomplished just before the tornado came through. While in the Joplin area they attended Christ's Church of Oronogo.
While St. John's was willing to relocate him to another Mercy Hospital, he and Danielle decided to remain in Jefferson City living with family for almost a year. Andrew took a job in the Jefferson City area where they now call home. The Stammers sold their Joplin lot to a family that since has rebuilt the house.
Danielle would like to thank the many volunteers from College Heights Christian Church who helped them sift through the debris of their damaged house, a representative from Christ's Church who assisted with financial support, money given to them through the Salvation Army and others who sent supplies and gifts to assist them during the first difficult weeks.
---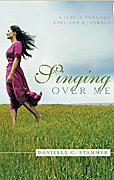 Title - Singing Over Me
Author: Danielle C. Stammer
Publisher: WestBow Press (Apr. 26, 2012)
$10.19/paperback; $3.03/Kindle at amazon.com/pp.108
ISBN-10: 1449748309
ISBN-13: 978-1449748302

---
(Photos compliments of the author)