Crowder College celebrates the big 50
April 13, 2013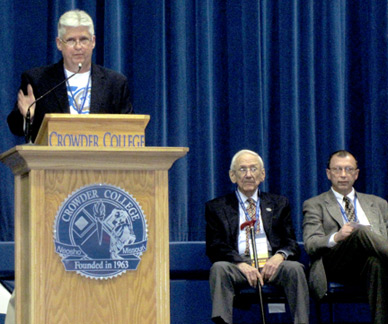 At the podium Dr. Alan Marble, president of Crowder College, welcomes guests attending ceremonies in honor of the 50th anniversary of the community college. To Marble's left are James B. Tatum who was influential in establishing the school and Andy Wood, current president of the Crowder Board.
The outrageously wet weather on April 2, 2013, did not put a damper on festivities inside the Bob Sneller Gymnasium on the Neosho campus of Crowder College as speakers commemorated the school's 50th anniversary. Welcoming the large crowd that included educators and other school officials, students, politicians and community supporters was Dr. Alan Marble, Crowder's sixth president.
Part of the ceremony included presentation of traditional tributes from both the Missouri Senate and House. But the "star" of the event was the man whose passionate vision is credited with bringing the concept of a school on land that was Camp Crowder to fruition.
"Before there was anything here there was James B. Tatum," Marble announced,"and without his vision we wouldn't be here now."
Tatum, who may be credited with many years of service to Crowder as a board member and board president, can add 50 more years as an educator. In speaking about the history of Crowder, Tatum revealed the folksy humor that is part of his personality.
He announced that what he would say about the founding of the school was going to be a "love story." While he joked that "not much is fresh in my mind," Tatum revealed in a long talk that followed that Crowder was "very fresh" on his mind and while one may get very tedious speaking about the past one should be quite excited over realizing how far the school has come and "is becoming all the time."
Establishing the school in April 1963 was not easy without legal standing or money. Tatum, who credited the idea of providing a technical education for students of Newton and McDonald counties to then Neosho Superintendent of Schools, Robert W. Anderson, declared how the wedding of wisdom and love surmounted a tough go early on.
"Solar energy put the school on the map," Tatum said, "thanks to Art Boyt's car, the forerunner of the geothermal program."
From the beginning Tatum spoke about Crowder as a "school where everyone is personally touched."
The admission that Crowder has received $12 million in donations during the last 10 years got a nod as quite good from audience member, Dr. Bruce W. Speck, Missouri Southern State University president.
A book soon will be published commemorating Crowder's 50 years. The cost is $25. For order information go here.