Remembering the past: Carthage, Missouri
August 23, 2013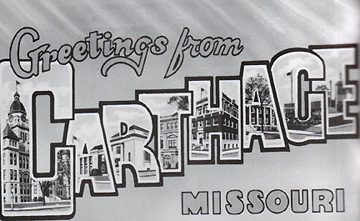 by Mari Winn Taylor
Nostalgia. The word creates a warm, fuzzy feeling.
If "nostalgia" refers to an overall interest in the past--places, persons and things from one's earlier life or what is generally referred to as the "good ole days," then a new book by Wade Utter and Michele Hansford for the Powers Museum is a must for the book shelves or coffee tables of those who were a part of the life of Carthage, Missouri beginning in 1940 and five decades beyond.
The newest edition to Arcadia Publishing's "Images of America" series, Carthage: 1940-1990 includes more than 200 images chronicling this unique Midwest town after the Great Depression, limited in its effect thanks to local efforts. The book is dedicated to all Powers Museum volunteers, interns, board members and staffers--you know who you are--who helped compile the photos and who lovingly contributed to the museum's 25 years of operation beginning in 1988.
Apologizing for not being able to represent every business, church, school or attraction built during this time frame, Hansford, who directs the Powers Museum, explains in the book's introduction that most of the photographs used came from the relatives and estate holdings of Marian Powers Winchester but not to leave out those that were received from outside donations like the museum's collection of Carthage high School yearbooks, especially since The Carthaginian currently is celebrating its centennial.
What better way to start out a pictorial history of Carthage than with an early aerial shot of the Carthage Square, the city's heart, and noting that the Harrington Hotel (1882-1939) had been razed at its northeast corner to make way for a one-story Kroger Grocery store opened in 1940 that at present is an Allstate Insurance office. This notation no doubt brings groans from historical preservationists who all too often lose the battle to maintain a sense of the past, as also was the case with one of the earliest buildings of local limestone pictured in the book, the First National Bank at 300 Grant Street that was torn down in the early 1960s.
Credit is given to real estate owners Lowell Davis, Bob Debaca and Tom Kingsbury who restored a block of buildings on Grant Street but unfortunately fire, we are told, another enemy of preservation, destroyed all but one of the buildings. Fortunately, though, the memory ot these structures survives in pictures further preserved in this book.
The past lingers, of course, with the focal point of the square, the Jasper County Courthouse. One photo caption reveals that Ruth Kolpin, a well-known benefactor to communications at Missouri Southern State University-Joplin, was the person who donated the lighted star that appears atop the courthouse tower. We are told that this "Jasper County Star" at a dedication in 1964 that brought together the governors of the 4-states was dubbed a "Guiding Star" and "Star of Peace." Other well-meaning photo captions play their part in preserving history.
---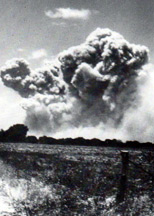 This huge explosion shown in the newly published pictorial history, was a memorable event for anyone in the Carthage area on July 14, 1966. This view shows how the smoke rose 1,000 feet above the site of the Hercules Power Company, an explosives manufacturer. The event took the life of one worker and destroyed the southern portion of the plant.(Courtesy of Lee Haggard)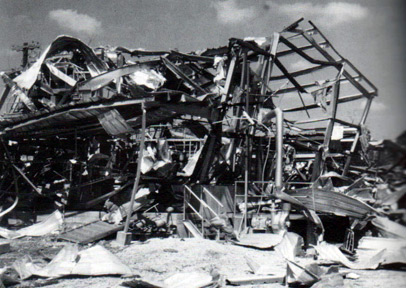 The intensity of the blast in 1966 at the Hercules Power Company was so great that it shook and damaged buildings in Carthage and other towns several miles away. Shown is the destroyed Vibronite-S can house. (Courtesy of Lee Haggard)
Both photos appear in Images of America - Carthage - 1940-1990.
---
People especially like to reminisce about places associated with entertaining a "romantic interest." Such views of movie theatres like the included Roxy Theatre on 124 E. Fourth St. and the Tiger Theatre on 319 S. Main St. may have been date night favorites. Who saw the movie with a connection to a former Carthage resident and notorious outlaw, Belle Starr's Daughter, in 1948 at the Tiger? Also in the '40s, did you share all-you-can-eat dinner for $1 at the Drake Hotel, 406 Howard St., grab a bite at Bill's Frosty Mug Drive-in on 315 E. Central Ave. or Boot's Drive-in at 120 S. Garrison Ave., both owned by Arthur Boots, responsible for the Boots Motel that is thankfully preserved today. Will you recognize your old pick-up or car captured in the many other photographs included of eateries, motels, banks and other once thriving commercial enterprises, many of which are lost in memory to the current generation.
A fair number of photos contain people. Included are early groups shots of assembled Carthage lawyers and physicians, the 1958-59 kindergarten class of Grace Episcopal Church and many other assembled students and their school histories, a crowd scene at Marian Days in the '70s, and Maple Leaf Festival winners in 1971, to name only a few.
A chapter entitled, "In and Around Carthage" makes sure that sites that are a part of the complete tapestry of the city are not left out. Some of these photos show Red Oak II, Lowell's reconstructed village northeast of town.
The Images of America series is meant to present and preserve distinctive stories from the past that shape the character of a community today. Books such as this one assume an important role in helping to preserve local heritage. Utter and Hansford should be thanked for making this time-frame of the history of Carthage available to all.
About the author/editor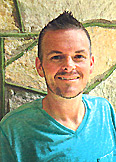 Wade Utter, 36, born and raised in Carthage, has been fascinated by the history of his hometown from an early age. He seized the opportunity to partner with Michelle Hansford and the Powers Museum in writing the book.
A 1995 graduate of Carthage High School and Missouri Southern State University with a degree in business administration, Wade assembled research about his hometown for several years, especially while contributing articles to the Carthage Press.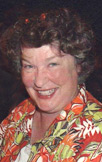 Michele Newton Hansford, 58, while a native of Indianapolis, Indiana, has lived in Carthage since the fall of 1983 when she became curator of the Powers Museum. After assuming the role of director, Hansford and a board of seven volunteers oversee the operations of the museum, putting them in close touch with events in the Carthage community.
Hansford holds a B.A. in American Studies from Anderson University (Anderson, Indiana) and a master's in historical administration from Eastern Illinois University (Charleston, Illinois). A member of the Missouri Humanities Council for seven years, she is its current chairman of the board.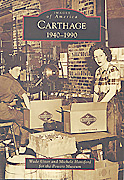 Carthage: 1940-1990, $21.99. Arcadia Publishing. Find it at local retailers, online bookstores or through Arcadia Publishing.