Knowing Jim Tatum
January 23, 2014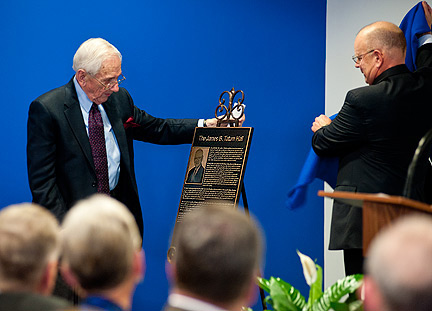 Jim Tatum, at left, looks over a plaque uncovered by Dr. Kent Farnsworth, Crowder College interim acting president, that details Tatum's pioneering efforts in community education and his long association with Crowder. It will hang in the James B. Tatum Hall in Jane, Missouri.
by Mari Winn Taylor
If you don't know Jim Tatum then you are missing out on knowing someone who has changed the lives of many people. Besides the fact that Crowder College would not exist except for Jim Tatum, what that school represents also falls in his long list of accomplishments.
Andrew Wood, current president of the Crowder Board of Trustees, caused the audience attending a special recognition ceremony on Crowder's new campus in Jane to laugh when he said he was told to keep his accolades of Tatum under seven minutes. That turns out to be one minute per decade, he reminded everyone, considering the 50-plus years of Tatum's involvement in the community college's growth.
From inception, Wood said that no one else was there to get it done. Tatum, a West Point graduate took the bull by the horns, was even the driver of the car carrying people to Jefferson City back in the late 1950s to make sure that the notion of establishing a community college be on a ballot but also that the approval passed. It helped, of course, that he was a voracious letter writer and so vehemently believed in what he was trying to establish--his philosophy having been based on "Service Leadership," the concept established by Robert K. Greenleaf who brought his ideas to AT&T, that being a good servant is integral to being a good leader.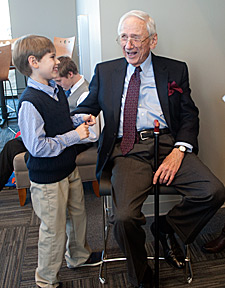 James B. Tatum speaks to one of his great grandsons just before the ceremony honoring his retirement from Crowder College.
Contrary to being labeled a workaholic, Col. James P. Tatum, USA ret., speaking on behalf of the family said that his father put his family first. Their appreciation for that could be seen in the 35 or more smiling faces that had come from near and far to honor their Dad, grandpa and great grandpa during this January 19, 2014 ceremony.
In response to all the good things said about himself, the honoree in typical dry humor said he felt like going down to the nearest creek and "walking on the water." He stressed the importance of having educational opportunities nearby, especially as opportunities to train for future employment. In conclusion he loosely quoted the rabbinic saying, "It is not incumbent upon you to complete the work, but neither are you at liberty to desist from it" He intends not to walk away from life but continue to be a Crowder supporter.
Support for the James B. Tatum Hall in McDonald County
Crowder Interim President Dr. Kent Farnsworth had the task of thanking those each who seized an opportunity for naming rights and otherwise donated to the fund-raising efforts. Vicki Babbitt, a long-time Crowder Foundation board member was picked as one of the board's strongest supporters. She spoke of the importance of education and quoted George Washington Carver who said that "education is the key to unlock the golden door of freedom," that the new campus was "only a first step" and that, by the way, her granddaughter was going to be one of its first students.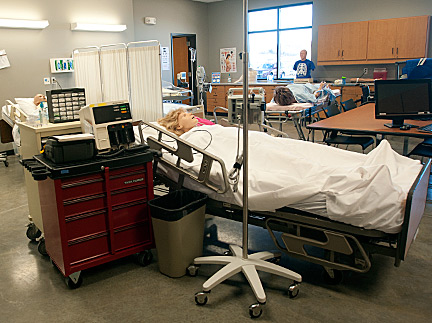 A glimpse into the laboratory for nursing students at the new Crowder County facility in McDonald County shows "patients" in varying states of ill health. The local nursing program previously was housed in a former warehouse in Pineville.
Also praising the community for its support was Jim Armstrong, Crowder College Board President and Keith Lindquist, presiding commissioner for McDonald County who spoke of Crowder as a "bridge to get one step closer to reach one's dreams" and the determination that the campus stood for to make a better life for the residents of the county.
It should be noted that two thirds of $1.5 million collected was donated by the Farber Foundation. While that entitled Rudy Farber to naming rights, he donated the money with the caveat that the facility be named after Crowder's long-time benefactor, Jim Tatum.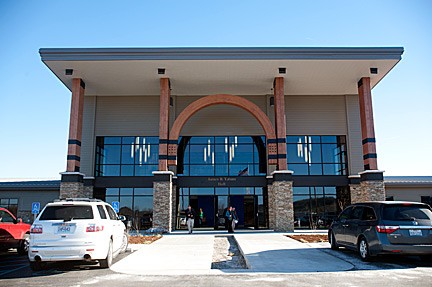 Crowder College's new James B. Tatum Hall is located off of off Highway 71 and Gordon Hollow Road, just north of the Walmart Supercenter, in Jane, Missouri.
Below find photos of the speakers who contributed to the dedication of the James B. Tatum Hall of Crowder College-McDonald County campus. They are: Dr. Kent Farnsworth, Jim Armstrong, Keith Lindquist, Vicki Babbitt, Anderw Wood, Col James P. Tatum, Rudy Farber and Larry Vancuren (the new member of the board of trustees who offered the dedicatory prayer to conclude the ceremonies). --Photos by Vince Rosati