Murder and mayhem at the Joplin Little Theatre
March 26, 2014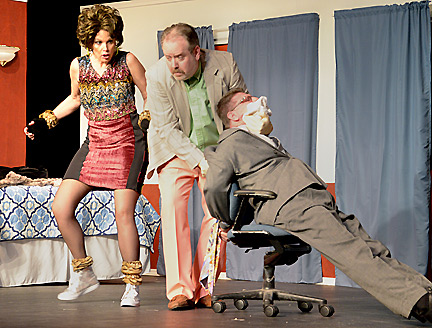 In disguise as a floosy, wife Arlene (Marilyn Marshall-Six) and her lover Paul (Roscoe Miller) plot to do away with husband Mitchell (Richard H. Roberts) in Joplin Little Theatre's newest comedy, Murder at the Howard Johnson's.
Murder at the Howard Johnson's is the latest production that will have audiences leaving the theatre with a grin. The offbeat, somewhat over the top comedy by Ron Clark and Sam Bobnick is being directed brilliantly by Jade Nicholas.
---
"Some of my comedies are romantic, some are a bit edgy and some are completely over the top. For the past 20 years I have been writing the plays I want to write, regardless of whether they seem commercial or not and I plan to continue doing so. Quite honestly there is nothing more satisfying to me than to sit in an audience and listen to people laugh. Although I feel there are moments of insight and enlightenment in my plays my main goal has always been to entertain, to have people leaving the theatre feeling good. Life is tough enough. Why send an audience home suicidal. It only cuts into future ticket sales."--Sam Bobnick, American playright who partners with Canadian Ron Clark. Both have written comedy for well-known television shows.
---
As characters switch roles in their plots to conspire and kill each other, they reveal quite a bit about themselves and about life. While the play inspires slapstick routines, it never strays from the underlying meaning behind what transpires.
And the cast of characters, including the anonymous maids that often appear cleaning up the motel room, fit their roles perfectly. Marilyn Marshall-Six (Murderís Bad, But Monday Can Kill You; Gypsy; Miracle on 34th Street) as Arlene Miller has just the right combination of sexiness and daffiness to pull off her role as the bored wife; Roscoe Miller (newcomer to the JLT stage) as Paul Lovell, Arlene's lover, sets us wondering if in real life he is the dentist with a roving eye to which he portrays and Richard H. Roberts (The Rocky Horror Show; and most recently The Mousetrap) as Mitchell Miller as the cuckoled husband successfully gains the sympathy he needs to keep breathing and, perhaps, become part of another plot.
The set at the Joplin Little Theare appropriately designed by Karsten Nicholas is simple, just one room is required but the backdrop of a row of tall curtained windows for any lover of a good comedic mystery are a clue to shananigans that might lie behind them.
Backstage personnel contributing to the show's success include Lacy Smith-Baum, stage manager; Cassie Lynch, costume designer; Shelly Keezer, lighting designer and Brenda Jackson, props.
The show runs from March 26-30, 2014. Tickets may be reserved by phoning the box office from 9 a.m. to 8 p.m. at (417) 623-3638. The Joplin Little Theatre is located at 3009 W. First St. (west of Schifferdecker) in Joplin.