2014 AIDS Walk New York raises over $5.1 million
May 19, 2014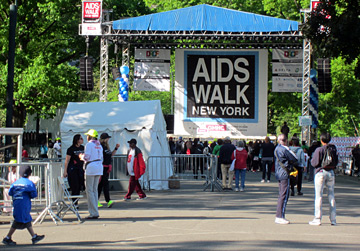 People of all ages gathered around the stage area awaiting opening ceremonies for the 2014 Aids Walk New York that took place in Central Park recently.
by Mari Winn Taylor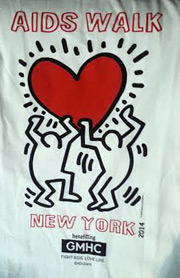 This A|X Armani Exchange T-shirt featuring a design by Keith Haring was an award for donors of $150 or more.
There was no leaving the rail once people packed the large area in front of the stage. Opening ceremonies for the 2014 AIDS Walk New York insured the appearance of celebrities as well as some words by New York City Mayor Bill De Blasio. Thirty thousand people were expected to attend.
The jumping jacks warm-up that preceded the event may have been more to help the spectators get through the speeches by the sponsors than to limber up for the 10K walk that eventually would take them though Central Park from 72nd Street to 110th Street and back.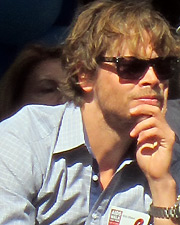 Eric Olsen who stars as Deeks on the CBS TV show NCIS Los Angeles was one of the celebrities at the 2014 AIDS Walk New York.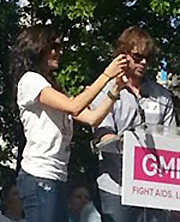 Eric Olsen was accompanied by his partner and love interest on NCIS-Los Angeles, Daniela Ruah (Kensi). Trying to take a selfie, Ruah interspersed lightheartedness while her partner took a more uptight tone.

Included in the list of celebrities were actress Lana Parilla (Once Upon a Time, a highly rated 2011 film), Randy Fenoli (Say Yes to the Dress ), Dot-Marie Jones (Glee) and from the TV show NCIS Los Angeles Daniela Ruah and Eric Olsen, crowd favorites based upon the level of hoots. Also present were about a half dozen elected officials, among them U.S. Rep. Charles B. Rangel.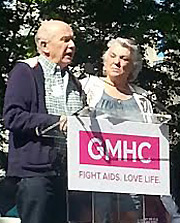 Playwright Terrence McNally and actress Tyne Daly share the podium in support of HIV/AIDS awarewness and eradication.
I was quite excited to see my favorite, from the police drama series Cagney & Lacey, Tyne Daly, (a six time Emmy winner) but with her image clouding my mind from the 1980s, I didn't notice her at first. She was seated next to the four time Tony Award winning playwright Terrence McNally. Daly, with Bobby Steggert also seated, currently star in McNally's play, Mothers and Sons.
McNally, who was nominated for the 1994 Pulitzer Prize for Drama for the play A Perfect Ganesh, said he will not stop promoting an understanding in his plays of what it means to be gay. He like Daly is a long-time vocal supporter of AIDS awareness and assistance.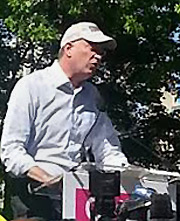 New York City Mayor Bill De Blasio shows his interest in helping eradicate HIV/AIDS in New York..
Addressing the crowd, New York City Mayor Bill De Blasio pledged the City's continued determination to fight to end new HIV infections. "…Until we fight this to the point of winning, we will maintain that sense of urgency and New York City will stand with you," he said.

The not for profit agency GMHC was the main benefactor of the more than $5.1 million pledged during this latest campaign to provide services for transgender and gender non-conforming people affected by HIV/AIDS. That 3-cents and not 88-cents of every dollar is used to actually support the HIV/AIDS community, a claim made online by DNAinfo New York, was refuted by GMHC as being mis-conceived.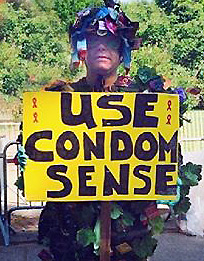 Prevention is an important part of fighting HIV infection. People were also encouraged to visit the tent where HIV testing was being administered for free.
A HBO movie, The Normal Heart that airs on May 25, 2014, at 8 p.m. CT, tells the story of GMHC's founding.