Billie Jean King wows tennis fans in Springfield
July 08, 2014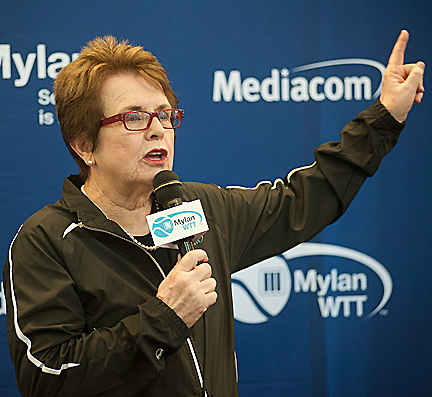 Tennis legend Billie Jean King stresses her enthusiasm for tennis and her crusade for equality during a briefing at the Cooper Tennis Complex in Springfield.
by Mari Winn Taylor
A guy in the V.I.P. Lounge of the Cooper Tennis Complex in Springfield on Sunday, July 6, 2014, politely asked Billie Jean King if she would stand next to his wife so that he could take a photo of them per his wife's request. I don't remember whether he was using his cellphone to do that, but I was smiling inwardly anyway. Billie Jean had given me a hug and I could still feel the warmth of the gesture, something that I will cherish long after a photo fades, gets mistakenly erased or dumped into a forgotten box.
Billie Jean's response came after I said, "I need a hug." I was thinking how I had met her over 40 years ago at Flushing Meadow, New York. Although my memory may not serve me correctly, I think she was in the doubles draw at the U.S. Open. She thought I had meant Forest Hills, the original location of that event, but then pondered a moment and decided that I could be right. Time marches on.
And Billie Jean certainly has lived life to the fullest. From a young child whose first word, she says, she learned was "ball," she went on to win six singles Wimbledon titles, four singles U.S. Open titles, 39 grand slam titles in all, and was ranked number one for five years, having defeated such tennis greats as Margaret Court, Chris Evert and Martina Navratilova.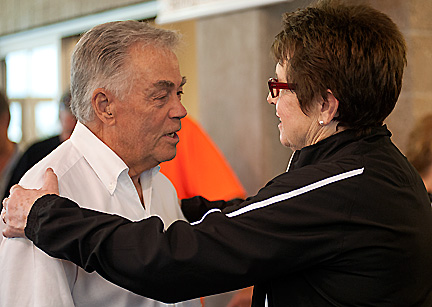 Billie Jean King embraces Harry Cooper, one of the Springfield businessmen who made a prime tennis facility in Springfield possible.
"The people of Springfield make the difference," Billie Jean told the crowd who paid extra for the privilege of using the V.I.P Lounge at the tennis complex. "It's not just about tennis, it's about community, she said, calling attention to the fact that the Springfield Lasers were the oldest tennis team in the nationwide Mylan World Team Tennis (WTT) Pro League. She repeated a couple of times that the room was only half as full the last time she visited. Especially praised was Harry Cooper for melding the private sector with the public to create what she labeled, "a management team."
Thankful for the assistance she received from the city and citizens of Long Beach, California where she grew up, Billie Jean who considers herself a "public park brat," was able to play Wimbledon at age 17. In her debut with Karen Hantze Susman, the unseeded team, defeated top seeds to win the Wimbledon women's doubles final. The year was 1961.
Regarding the power of tennis, Billy Jean believes that tennis "gives a person extra strength to carry on...it becomes part of one's DNA," she says. "...Before hitting every ball one has to strategize."
All anyone had to do was to tell Billie Jean that the women's tennis game was inferior to get her riled up and crusading. That's what 1939 Wimbledon champ turned hustler Bobby Riggs said in 1973 when he challenged her to what became known as the "Battle of the Sexes." The 55-year old Riggs had just beaten Margaret Court. In his bravado he was willing to take on an angered 29-year-old who was not going to let him defame women's position in the sport. She couldn't lose and didn't in straight sets.
Regarding her career, she admitted to those in the room that she played tennis before many of them were born. She also said when she played, she didn't have to play the whole world--tennis was limited to the Americans and the Aussies and a few other scattered players.
Her championing of social change and equality (especially equal prize money for women as men) in 1975 was recognized by readers of Seventeen magazine. In a poll they voted her most admired in the world, second to Golda Meir, the prime minister of Israel. Her recognition didn't stop. In 1987 she was inducted into the International Tennis Hall of Fame and in 1990 Life Magazine listed her as one of the 100 most important Americans of the 20th century. In 2009 President Obama awarded her the Presidential Medal of Freedom, the nationís highest civilian honor and the first to a female athlete.
Next year, 2015, will be the 40th anniversary of Mylan World Team Tennis that Billie Jean co-organized. She announced that Andy Roddick and Venus Williams have agreed to carry on the tradition when she steps down.
"...We need your energy," Billy Jean concluded. "If you fill the stands, players are happy campers."
---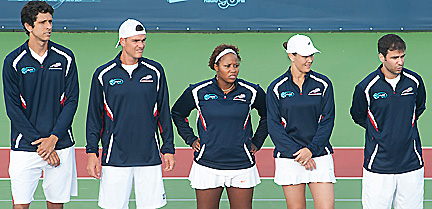 The results of the opening match made Billy Jean a "happy camper." Her team, the Philadelphia Freedoms, pictured above, squeaked by the Springfield Lasers, 21-20 (7-3 STB). The players (L-R) are: Marcelo Melo, Frank Dancevic, Taylor Townsend, Liezel Huber and Coach Josh Cohen.
The results were:
Men's Doubles - Michael Russell\Ross Hutchins (Lasers) def. Frank Dancevic\Marcelo Melo (Freedoms) 5-3
Women's Doubles - Olga Govortsova\Anna-Lena Groenefeld (Lasers) def. Liezel Huber\Taylor Townsend (Freedoms) 5-3
Mixed Doubles - Liezel Huber\Marcelo Melo (Freedoms) def. Ross Hutchins\Anna-Lena Groenefeld (Lasers) 5-1
Men's Singles - Michael Russell (Lasers) def. Frank Dancevic (Freedoms) 5-3
Women's Singles - Taylor Townsend (Freedoms) def. Olga Govortsova (Lasers) 5-4
Overtime - Women's Singles - Taylor Townsend (Freedoms) def. Olga Govortsova (Lasers) 1-0
Supertiebreaker - Women's Singles - Taylor Townsend (Freedoms) def. Olga Govortsova (Lasers) 1-0 (7-3)
---
Click on any photo to start a slideshow of photos taken on Sunday, July 6, 2014, the opening day of the Springfield Lasers 2014 season.
The Lasers pictured above include: (L-R) Ross Hutchins (replacing Jean-Julien Rojer), Michael Russell, Anna-Lena Groenefeld, Olga Govortsova (replacing Alisa Kleybanova), and Coach JL de Jager.
Photos by Vince Rosati