World of tennis is introduced to young readers
August 27, 2014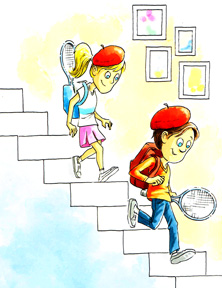 Molly and Nick, two characters in a new children's book by Marissa Irvin Gould, can't wait to share their new presents with kids at school
by Mari Winn Taylor
Marissa Irvin started playing tennis at age 9. She was encouraged by her father, himself a gifted athlete. Hiring 1980 Australian Open champion Brian Teacher for his daughter was significant in her eventual success on clay, qualifying for the Australian Open while a student at Stanford and then reaching the third round at the French in 2003, 04, and 05.
"Because of tennis, I was able to see the world and meet people from nearly every corner of the globe,"the former player said. "I wanted to show children just how much tennis had to offer them. There are tons of baseball, basketball, and football books for boys as well as ballet and "girly" books for girls, but this book is meant for both boys and girls. Tennis can help you make friends, get exercise, see new parts of your own country or foreign countries, learn sportsmanship, play a high school sport, get a college scholarship, and develop a skill that can last a lifetime."
Now married to Patrick Gould and the mother of three, the California native, a former elementary school teacher, enjoys spending time at home, writing in her spare time. A Magical Racquet Ride, subtitled "Journey to the Four Grand Slam Tournaments of Tennis" is Marissa's first book and in catchy rhyme is a motivator for kids unacquainted with the world of tennis.
The artistic creation of Mark Brayer (who has done work for "Star Trek"), Nick and Molly are twins who in cooperation blow out eight candles on a birthday cake before each chooses a favorite present.
"Two shiny new tennis racquets stood out from the rest, Their glistening frames surely made them the best" were the jaunty lines the reader sees before the twins are seen clutching the racquets as they fall asleep. Their dreams take them on a mighty adventure spanning three continents and four world tennis locations: Billie Jean National Tennis Center in New York, Wimbledon in London, Roland-Garros in Paris and Melbourne Park in Victoria, Australia.
But was their soaring trip a dream? Next to their pillows were two red berets, the same headgear they sported while in France. Well, we suspect that mom played a role in the appearance of the berets, adding further to the magic of tennis that the children discover. And we are told that they can't wait to share their adventure at show and tell in school.
With the opening rounds of the U.S. Open in progress this is a perfect book for a child wanting to not only know more about the sport but also be a part of it. For more about youth tennis go here.
For U.S. Open play online go here.
---

Title: A Magical Racquet Ride - Journey to the Four Grand Slam Tournaments of Tennis
Author: Marissa Irvin Gould with illustrations by Mark Brayer
Paperback: 32 pages/$9.99 on Amazon; Kindle: est. 17 pp./$6.99
Publisher: CreateSpace Independent Publishing Platform; 1 edition (June 20, 2014)
Language: English
ISBN-10: 1492177083
ISBN-13: 978-1492177081