Recent Crowder event enhances scholarship fund
November 20, 2014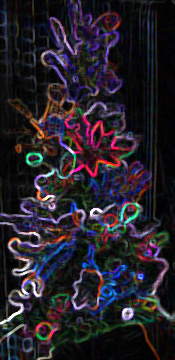 NEOSHO, MO – The Crowder College Foundation raised over $101,000 at the 12th Annual Festival of Wreaths held Tuesday, Nov. 19, 2014, in the Elsie Plaster Community Center on the Neosho campus, according to news supplied by Cindy Brown, Crowder Director of Public Information .
The event was attended by more than 450 people including first time attendees and those who have been supporters since the inaugural event in 2003. Festival of Wreaths is the Foundation's largest single fundraising event for scholarships. Two recipients who spoke at the event expressed their gratitude for receiving financial assistance that allowed them to continue their education.
Through BidPal, an online auction platform that was first used in 2012, the festival incorporated technology into the bidding process. This has made it easier to display the silent auction items and allow bidders to roam throughout the venue without unknowingly being outbid.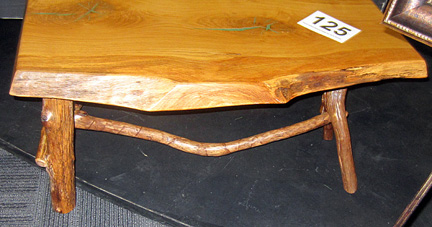 A handcrafted table/bench inscribed on the underside with its history was one of the items auctioned off in the 12th Annual Festival of Wreaths at Crowder College in Neosho on November 19, 2014. It was constructed and donated by Jack Divine, noted wood sculptor and an emeritus social sciences instructor (psychology) at Crowder. The wood for the piece was gathered in the aftermath of the May 2011 Joplin tornado.
Hundreds of area businesses and supporters of the college donate items to the auction. Two items donated by Don Wessel of Springfield included a 2010 Honda Fit and a 2009 Ford Mustang convertible. Other items in the live and silent auctions, besides holiday decorations, included an antique oak mantle, a patio set, beef from the John C. Adams Cattle Company of Southwest City, motorized riding toys, a complete bed donated by Leggett & Platt, sports equipment, kitchen goods, gift certificates and a wooden table/bench crafted from debris from the Joplin May 2011 tornado. Live auction services were provided by Bob Lasswell and Associates.
A Complimentary dinner was donated by the McDonald County Telephone Company, of which Vicki Jo Babbitt, a long-time supporter of Crowder College and member of the Board of Trustees from McDonald County, has a controlling interest. A buffet table extending several yards included a selection of fruit and veggies, chicken salad croissant sandwiches, nuts and cheeses, a selection of breads and a main dish of baked or smoked ham, green beans and herbal potatoes. Two other tables contained a selection of pies served, if desired, with a scoop of vanilla ice cream and non-alcoholic drinks.
Through the years donations have increased. In 2013 the total raised was about $96,000.Donations used with matching funds will generate several million dollars during a span of years.