To know Orbit is to know love
May 08, 2015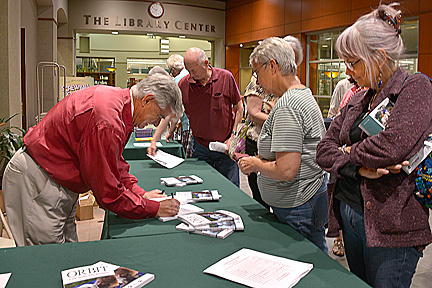 Guests at a concert with Bettine Clemen gather around Peter Longley as he signs copies of Orbit, Life with My People. The event recently was held at the Library Center in Springfield.
It's not every day that a dog, however posthumously, collaborates to write a book and gets it published. And certainly it takes a special dog to have his work promoted in part by an internationally known flutist.
"A Concert with Bettine Clemen" took place at the Library Center in Springfield on May 6, 2015, to launch the book, Orbit, Life with My People (iUniverse). Orbit was a fluffy white Great Pyrenees known to many in the Springfield, Missouri area, especially when he assumed the role of a polar bear alongside St. Nick each Christmas and as a therapy dog at Nixa Junior High calming a disruptive child by bonding with him. He also had an international fan base, we were told, having many times accompanied the innovative musician on her tours around the globe.
Orbit's "people" include not only Clemen but also Peter Longley who's known for the wonderful gardens he creates at the Springfield Botanical Center and his participation in many local garden groups. Orbit's good fortune also was to have known this man who is author of more than a half dozen titles. Longley contributed to the event by interspersing Clemen's musical repertoire with readings from Orbit's book.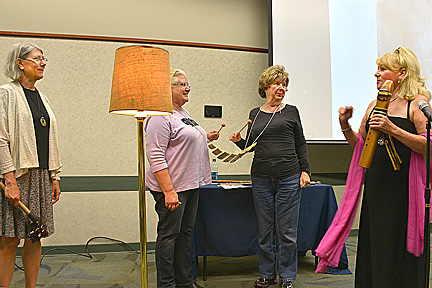 Volunteers from the audience assist Bettine Clemen (far right) at her concert. One of the instruments used was a "sound bridge," requiring the skill of two people.
Life basically was good for Orbit living with Bettine and Peter at Alpha Meadows, a beautiful 16-acre property located in the town of Seymour in Webster County and frequented by visitors to its many gardens and well-bred horses. While living there, Orbit, once a neighbor's dog, also enjoyed the company of several farm animals, including "Harry Trotter" whose ears stood up straight signaling Orbit's misbehavior. It should be noted that living in the Ozarks rather than in the mountains of Spain, Orbit had to sublimate his natural instincts for taking care of sheep.
Early on, Orbit tells us how he had to live down a succession of names: "Fluffy" as a young pup and then "Chucky" for apparent digestive problems. He was named "Orbit" after a stuffed dog that we are told was "far out there." Like many an outdoor pet, he tells us how he made his way first to the mudroom, then the kitchen and the warmth of a fire, next a soft carpet and finally the great room sofa. Life was good, or was it? Good times fade with the craziness of life, Orbit begins to observe.
"We dogs love everyone except when we are treated poorly," Orbit writes. Love and closeness are the most important stuff in life, he observes. "We dogs know this." But Clemen's many absences and overheard frequent conversations about money--or lack of it--led Orbit to conclude that the blissful scenes he observed previously of his owners sitting in front of a fireplace with two glasses of wine were about to come to an end.
The concert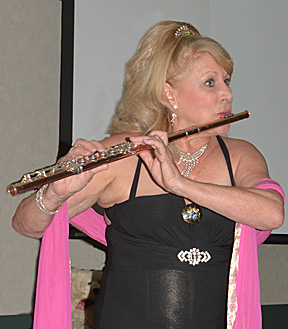 Bettine Clemen opens her concert with a rousing rendition of Czardas by Victor Monti.
The music that Clemen has chosen to perform along with the bits of video helping to illustrate it tell us how animals like children live in the present moment, not full of opinions. They want connection, not divisiveness, Clemen explains.
Orbit is the best thing that came out of our community venture, Clemen concludes, extolling his eternal being. Accompanied by her lilting music, via video projected on a large screen we are put in tune with the majesty and eternal characteristics of nature. The sun rises, the sun sets. Eagles soar and beauty abounds everywhere in the world surrounding us.
Clemen shows us the interconnectedness of life. She instructs everyone through her music that their goal should be to create a better life. The concert ends on a humorous note with Orbit singing to her music--Orbit loved music, especially Bizet (Carmen), Rossini (William Tell Overture) and Vivaldi.
In another brief scene we see a horse persistently trying to eat Clemen's cape. From the sadness of listening to Clemen play Amazing Grace and hearing about Orbit's final days, we leave laughing. That's what Orbit would want us to do.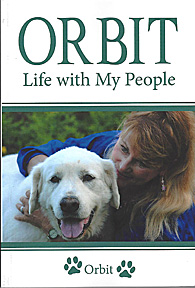 Orbit, Life with My People was published on April 14, 2015, by iUniverse. It is available at the Springfield Barnes & Noble store as well as on Amazon.com. And if you know Peter Longley, he would love autographing a copy of the book in Orbit's name for you.
Enjoy one of Orbit's favorite selections performed by Bettine Clemen. Go here.