Susi Ettinger: Ciphers & glyphs
May 16, 2015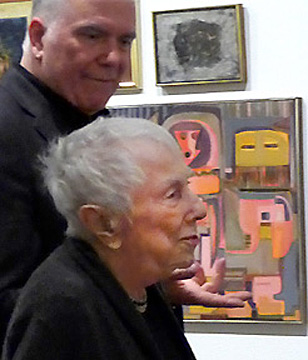 Excitement filled the Weisel and Kelly Galleries of the Springfield Art Museum on May 15, 2015, as folks gathered to meet diminutive Susi Ettinger, pictured with her companion. In her 92nd year (born 1922), the mixed media artist had returned to Springfield where from 1964-84 she had been an instructor at what was then Southwest Missouri State. She often also contributed her knowledge to the Springfield Art Museum, making many acquaintances along the way.
Born in Berlin, thanks to the sponsorship of a relative Ettinger as a teenager came with her Jewish family to the United States escaping the Nazis in 1939. She attended high school in New York City before entering the University of Louisville in Kentucky where she earned a Bachelor's of Fine Art as a major in art history. This background landed her a job with the Metropolitan Museum of Art as a lecturer until the war ended and she was laid off allowing her career as a cartoonist to blossom.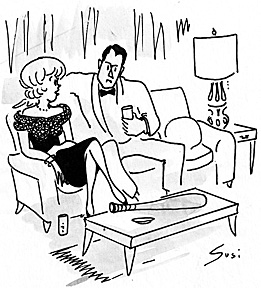 The exhibit pulls together a retrospective of Ettinger's work produced during several decades in as wide a range of media--from Conté crayon drawings to collage, not to forget mentioning the freelance cartooning she did during the 1940s and 1950s that she collaborated with her husband Manfred that appeared in dozens of popular magazines of the time. One of the cartoons, pictured at left, and on display, titled, "It takes the worry about being close" shows her unabashed sense of humor in what presumably was meant for a deodorant ad.
One theme running throughout Ettinger's work is the creation of ciphers and glyphs, the spring edition of the Springfield Museum Newsletter tells us. Without that knowledge, an onlooker might on their own discern what looks like futuristic Martians and/or prehistoric cave markings, a never ending overlay of symbols that convey the artist's own personal explorations and lead to a deep, dark secret world open to many interpretations.
Ettinger's current work is digital. Photoshop compensates for an unsteady hand, a bane of being a nonagenarian. However, her collage work remains the product of a very creative mind, especially as four pieces grouped together reveal below.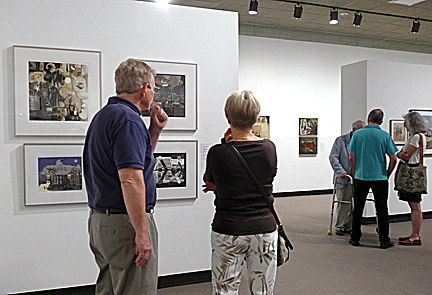 The exhibit that runs until November 8, 2015, features the work borrowed from the artist, a number of private collectors as well as the Springfield Art Museum's own permanent collection. A catalog is available for purchase.
The museum is located at 1111 E. Brookside Dr. in Springfield. Hours are 9 a.m. to 5 p.m. on Tuesdays, Wednesday, Fridays and Saturdays; 9 a.m. to 8 p.m. on Thursdays and 1-5 p.m. on Sundays. The museum is closed on city and national holidays and Mondays. Admission is free.