Patriotism overflowed in new memorial garden
June 15, 2015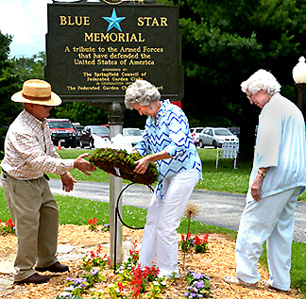 Avis Holloway (center) assists Helen Boutwell (at right) in positioning a wreath in front of the Blue Star Veteran's Memorial marker during a dedication ceremony at the Springfield Botanical Gardens on June 14, 2015. Boutwell is a true "Rosie the Riveter," having worked in a munitions factory during World War II.
Patriotic Americans like symbols. What better day to focus on them than yesterday, June 14, 2015, Flag Day.
The Blue Star Veterans' Memorial Dedication sponsored by the Springfield Council of Federated Garden Clubs (SCFGC) was held at the Springfield Botanical Gardens in a ceremony replete with symbols honoring the men and women who served our country.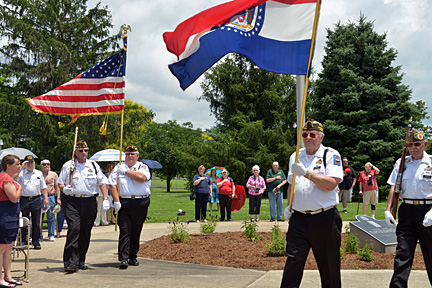 The Veterans' Memorial Team Honor Guard performed the presentation of colors at the Blue Star Memorial dedication program. Two men carried old World War I Springfield rifles but did not fire them.
Having a memorial with a blue star was first conceived in 1945 by the National Garden Clubs group as a way of honoring veterans returning from World War II. It was part of a "living memorial" of gardens and markers placed along highways in every state. The project was named for the symbol of hope and pride, a blue star that was part of the service flag which hung in windows of homes and businesses to tell others that a family member was serving in the Armed Forces. Eventually, it was changed from being just a highway marker (although these are still in existence) to locations on national cemeteries and veterans centers and finally to other civic spots like the one in Nathanael Greene/Close Memorial Park just north of the Master Gardeners of Greene County Demonstration Gardens. An online list provided by Cynthia Brodersen, FGCM Blue Star Memorial chairperson, shows that at least 80 memorials are located throughout Missouri, with one relocated in 2009 to a rest area at exit 111 of I-44.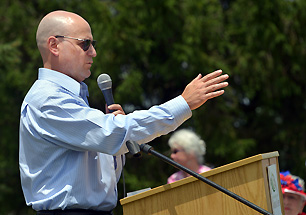 Jerry Jacob, U.S. Army, Ret., OIF, OEF, takes the podium as the featured speaker.

Springfield appreciates military members through the symbol being dedicated today, was the thought expressed by the featured speaker, Jerry Jacob, news anchor for KSPR-13. "I hope that marker will inspsire passersby to do great things," Jacob said. The retired U.S. Army serviceman who served in both Operation Iraqi Freedom and Operation Afghanistan Freedom, told the audience that he didn't know what "land of the free, home of the brave" meant until he joined the military. That phrase that is part of the Star Spangled Banner was engraved on a bench donated by Emily Canlas that has been placed near the memorial marker.
In preparing his speech, Jacob said he could have talked about the horrors of war that he faced, but his wife told him to keep it light. His tale about how he at 36 was turned down at first by the army because he exceeded their age limit and then five years later was accepted when the limit was raised to 42 brought a few snickers from the audience who understood the military way.
As an old guy amongst 20-somethings, Jacob said that infantry basic at Ft. Benning was brutal. "One week in I was beat up," he said, fogetting why he was there. But an honor given him to raise the flag in a ceremony, he said, was like "a bolt of lightning," a defining moment when the flag, a powerful symbol, became the impetus for him to do his best, even if it meant doing something 148 more times than it needed to be done.
Jacob cautioned non-military members agaainst considering servicemen "superheroes." He considered himself an average guy who became inspired to do greater things.
Connie Bradford, representing the Ozark Piece Makers Guild, kept glancing up at the sky as it darkened. She was in charge of handing out Quilts of Valor presented to those who served in combat. (Members of this Springfield non-profit group meet once a month to complete quilts for distribution.) A couple of the quilts presented were quite elaborate and specially made by family members. The national program to make quilts stitched with love and healing thoughts was begun in 2003 by quilter Catherine Roberts and since has distributed 119,000 of them.
It should be noted that the marker itself, that was presented by navy veterans Earl Whitman and Frank Mason to Katie Steinhoff, director of the Springfield Botanical Gardens and dedicated by Nan McCabe, second vice president of the FGC-MO, was not the only symbol to work on a dry eye. The event, emceed by Joan Bowen, included the presentation of colors by the Veterans' Memorial Team Honor Guard; the pledge of allegiance conducted by Josie Raborar, SCFGC president; the invocation and benediction by military chaplain Philip Johnson; the Natioan Anthem sung by Shayne Piles, vocalist from Republic High School; an assisted wreath laying by Helen Boutwell, 92, a WWII ammunition factory worker and true "Rosie the Riviter; God Bless America sung by Miriam Kemper, a second vocalist from Republic High School; a performance of Amazing Grace on bagpipes by Bob Lanning and taps by Chuck Neeley under a continuing threatening sky which didn't open up until the event was concluded.
Click on any thumbnail to start a slideshow containing photos of the ceremony.