Vietnam revisited via memorial wall
July 13, 2015

American Legion Vietnam Memorial Post 639 in Springfield was host to The Vietnam Traveling Memorial Wall. An introduction to the wall told us the exhibit was "in memory of the men and women who served in the Vietnam War and later died as a result of their service" and is to "honor and remember their sacrifice."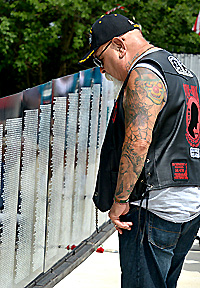 Anthony Gutterrez, at right, saw action in the Mekong Delta in late 1965-66. Visibly moved, he is standing in front of the memorial wall where he had found the name of a friend he had lost track of. Unfortunately, the friend, he said, did not return home. He thinks people need to realize the significance of that. "For me," he said, "I was lucky. I came home."

Approaching The Vietnam Traveling Memorial Wall on the grounds of the American Legion Post 639 one might have hesitated and asked, "Wait a minute. Isn't that wall supposed to be black?"
Light seems to make the monument appear white, even in Washington, D.C. where the actual monument is located. Individual names that are inscribed in white seemingly infinite in number blend together consistent with the artist's statement that the memorial is meant not for the individual but for the men and women as a whole who died during the war.
The war pitted the communist regime of North Vietnam and its southern allies, known as the Viet Cong against South Vietnam and its principal ally, the United states. When it started is open to controversy. While the 9th brigade Marine division was called to action on March 8, 1965, 342 green beret "advisors" were in Nam in 1955 until the number grew to 785. The Case Church Amendment cut off funding for the war on August 15, 1973, but two official deaths occurred after that two years later.
With assistance by Conco-Commercial Concrete of Springfield and other donors and the insistence of Rick "Doc" Russo, one of the walls that has traveled around the country was brought to the post on South Scenic in Springfield to be installed temporarily along a cement path as the focus of ceremonies that took place from July 9-12, 2015.
Visitors, some with paper provided by the location booth attendants for creating a rubbing, some with red carnations, gathered in front of the names of friends and relatives. Some were just there to pay homage to strangers like PFC Jimmy Dale Hatfield of Joplin who died at the age of 20 in Long An Province, just 10 days after the start of his tour or PFC Russell Dean Wake, 18, of Springfield, who was listed as dying of other causes in Binh Dinh Providence, perhaps, by friendly fire. During the war years from 1965 to 1975 1,728,344 were drafted, 88.4% mostly white and of the 2,709,918 who served, only 850.000 are alive today--these are statistics compiled by post member Woody Woodworth. (A virtual wall with information about other servicemen from Missouri whose names are engraved on the wall may be found here.)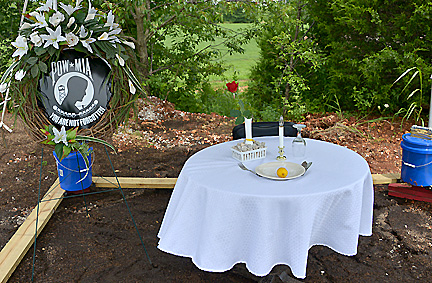 Included in the exhibit is "The POW/MIA Memorial Table," pictured above. Statistics show that 766 (114 died in captivity) were prisoners of war and 2338 soldiers were missing in action (36 still unaccounted for from Missouri). The small size of the table represents the frailty of one prisoner alone against his oppressors. Unable to toast with us, the soldier's wine glass is inverted and his chair is empty. Other symbols represent his hopeful but eventually grieving family.
Four-time purple heart recipient John Hosier Jr. of O'Fallon, Missouri who claims to have experienced more as a combat photographer than as a combatant gets credit for creating the traveling museum which visitors thoroughly enjoyed visiting. He wasn't present but he was given the biggest round of applause.
Housed in a tent, the exhibit "Through Their Eyes," the title of Hosier's illustrated war journal, contained artifacts along with several of Hosier's reveal in photographs. What stood prominently on a wall were two heavily embroidered jackets expressing a typical soldier's lament after serving in Vietnam: "When I die I'll go to heaven because I've spent time in hell."
Soldiers, like others before them, also liked to paint slogans and art on their vehicles. Shown was the photo of a tank labeled "Hanoi's headache." It refers to guys who would drive all the way to Hanoi to seek revenge on Ho Chi Minh in person.
What was interesting also was how the "stream patrol" became successful. An explanation was that cowboy movies of the 50s helped them determine the entrance and exit of the Viet Cong from streams. Whatever it took. The origin of "rolling thunder," one learned, was when kids from Iowa whose family owned a drive-in movie theatre were sent four window speakers that they hooked on to an 8-track stereo placed on a tank. "I am the God of Hell Fire" played at full volume was terrifying, although also unnerving to GIs, while still considered "so cool."
---
"Laundry girl" writes Hosier: "The first thing she ever said to me or any other GI was "me good girl." We knew what she was telling us but she soon showed us what she meant. Honor, dignity, grace, beauty, ethics, and a love for life in all shined in the middle of the war. Nuygen looked much younger than her 17 years. She was much wiser than those years too. She learned to cook American food from recipes we gave her. She did laundry, polished boots and buckles, tailored uniforms and sewed on patches. We taught her English and about America. She taught us about life when we were surrounded by death." A friend of mine said that when these locals unexpectedly left camp that the GIs knew to get the hell out of the area. They knew when the camp was going to be bombed by the VC.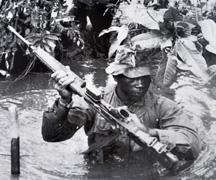 "Leech city" writes Hosier: ..."during and after the monsoon the rain filled the paddies, valleys, streams and rivers with millions of gallons of water. Mother Nature also filled the water with other gifts. It was dirty, smelly, and in some cases slimy thick. It was fast and furious, stagnate and quicksand. It was full of leeches that sucked your blood and snakes that could kill you. We found out that the agent orange sprayed in the mountains washed down into the same water and then into our bodies, killing more of us than the war.."
---
Opening ceremonies on July 10 took place at 6 p.m. on a grassy field facing the wall. A brief overview of events by Post Commander Mike Goforth preceded an introduction to Allen Hines who acted as emcee. He sang the National Anthem following an invocation by Chaplain Zollie Smith and a ceremony by the Marine Corps League Color Guard.
Senator Roy Blunt called attention in his short talk to the tragic lack of welcome returning Vietnam soldiers received in the U.S. He called for better veterans' healthcare, especially in treating post traumatic stress syndrome (refusing to label it a disorder). David Stokely, the representative for Sen. Claire McCaskill for southwest and south central Missouri, said he couldn't improve on what the Senator said, so he sat down quickly. The last of the politicians, Springfield Mayor Robert Stevens said the names on the wall represented the bravest of his generation and that it was a humbling experience to be on the stage dwarfed by the humble feeling one gets from walking along the wall.
The keynote speaker was Col. Don McMahon, retired Navy sea/air rescue pilot. He sees the wall as a way of writing the wrong of a nation not entirely grateful for those who served in Nam.
"We left Vietnam but for many of us, Vietnam never left us," McMahon said. He talked about the Missourians who died and said "to touch the wall is to touch the dead." He hoped that the wall would help heal some of the emotional wounds still carried by vets.
---
"Ask me no questions. I'll tell you no lies.....I was never very sure of that old saying. It seemed that everyone was lying in that war, from generals to presidents, from the news media to the war protesters, from the politicians to big business they all lied. Hell if anyone told the truth there would have been no reason for the war....."--John Hosier
---
Speaking on behalf of Veterans in Defense of Liberty in place of the scheduled founder Dr. William Scott Magill, was former Marine Sergeant Nick Ibarra who had been stationed in Fallujah, Iraq. He compared the reception Iraqi soldiers received upon coming home with those returning from Vietnam and said everything must be done to let soldiers know we "have your back." He announced that anyone could sign a thank you card for those who served and returned alive. (For more information about this phone 417-886-8499.)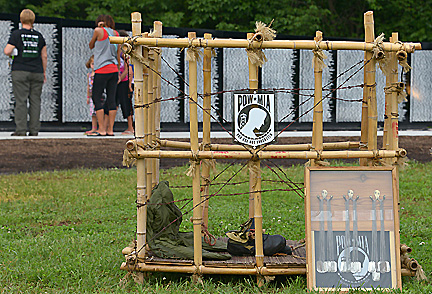 At 8 p.m. a Tiger Cage Ceremony was performed by members of the Rolling Thunder, Missouri Chapter 1 motorcycle riders. Paying tribute to those missing in action included announcing a name, ceremoniously taking a dog tag and placing it on a piece of protruding bamboo of the cage and finally ringing a bell. Some of the bamboo cages reportedly were too small to stand up in and too small to lie down in. While many of them were used by the Viet Cong to torture prisoners while transporting them to North Vietnam from the south, they also were condoned by Americans. Torture was shown to be an integral part of U.S. policy in the Vietnam War. (See Tom Harkin's photos, Life Magazine, July 17, 1970.)
History of the wall
Yale undergraduate student Maya Lin won the competition to design the memorial after submitting a project she completed for her funerary architecture class. An environmental design was essentially part of its concept. Situated against a berm two horizontal perpendicular granite walls were meant to appear to grow out of the earth.
Called a "black gash of shame" by Tom Carhart who represented the Committee of Fine Arts, Lin's design met with much controversy and disapproval. However, Jan Scruggs made it his personal crusade to raise funds for what was considered a "tabula rosa" or something that would be open to multi-interpretations.
A compromise was reached when a bronze statue of three soldiers in uniform by Frederick Hart (although a distance away) and flags were incorporated into the memorial. The memorial was dedicated on Veterans Day, November 13, 1982 in Washington, D.C.
While the wall shows the names of those who died in the war, the names of veterans who suffer or suffered from medical issues caused by their service in Vietnam--exposure to agent orange or psychological trauma--are absent from the wall. The Vietnam Veterans Memorial Fund's In Memory program honors those who died as a result of the Vietnam War but did not fit the Department of Defense's criteria for inclusion upon the wall. For more information about this program go here.
Vietnam War videos compiled by history.com, A&E Television Networks, including one that describes an offensive that was in a seemingly beautiful place that rapidly became hell may be found here.
Click on any thumbnail to start a slideshow containing photos of the ceremony. (Photos by Vince Rosati)