Golden Prairie: A place of continuing inspiration
August 23, 2015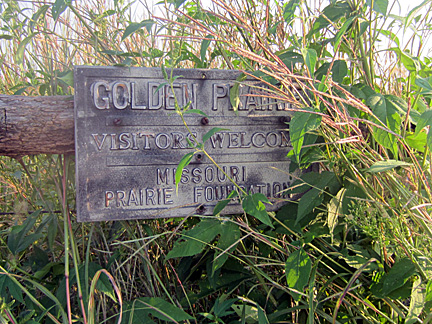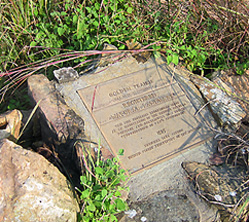 Just off of SE 80th Lane and SE 90th Road about two miles south of Golden City in Barton County is an entrance to the Golden Prairie. The parking area isn't paved and no sign greets you at the dirt road, but one on a fence discreetly announces you have arrived. Unlatching an iron gate held by a chain, allows visitors to access a mowed path that takes them past tall grass and occasional wildflowers. The setting is serene interrupted only by the sound of insects, heard but not seen, and birds catching currents of air as they communicate with each other. Native plants like Coreopsis lanceolata and Echinacea purpurea are only welcome here. This prairie through responsible stewardship has been reclaimed from the tall fescue and brush that invaded it. One comes upon a plaque, pictured at left, announcing that in 1975 the National Park Service of the U.S. Department of the Interior awarded the Golden Prairie the status as a National Natural Landmark.

Survival isn't easy when your predators include red-tailed hawks, owls, skunks, coyotes, opossums, foxes, raccoons and snakes. The diminishing population of prairie chickens in Missouri was the main concern expressed by conservationists who met at the Golden City Community Center last Saturday. Honoring the man whose family farm formed the basis for the tract of land on which prairie chickens once flourished highlighted the event hosted by the Missouri Prairie Foundation (MPF) whose agenda also was to recognize two milestones: the 45th anniversary of the Golden Prairie and the 40th anniversary of the Golden Prairie becoming a National Natural Landmark, one of 600 in the U.S.
Rosa Christisen called the Golden Prairie a "priceless gem of golden earth," a valuable resource in explaining the Earth's complex history. But, she lamented, how millions upon millions of acres were plowed in Missouri with no one interested in conservation.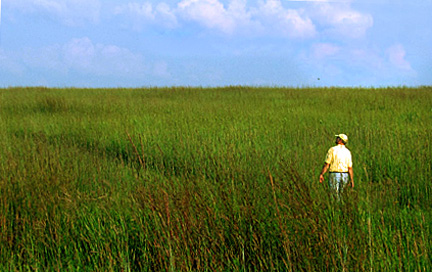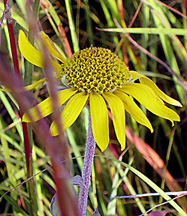 A visitor to the Golden Prairie takes advantage of a cooler summer day as he loses himself on a seemingly endless path. Occasionally he would pause to inspect a wildflower along the way, although at first sorry that he couldn't put a name to it, eventually deciding that naming it didn't matter.
Lack of this prairie land or loss of natural habitat contributed to the demise of the prairie chicken said to need an abundance of land for each one. Half of Missouri was carpeted with true prairie during the time the Osage Indians inhabited the land. Hundreds of thousands of birds peaked after the Civil War and today, according to Doug Ladd of the Nature Conservancy, only one half of one percent remain.
Noted photographer Nopadohl Paothong spoke about his 3 a.m. ritual in which he walked in a prairie in order to capture the images of prairie chickens in their natural environment. He considered this experience life-changing. Unfortunately, he traveled far from Missouri to find this habitat.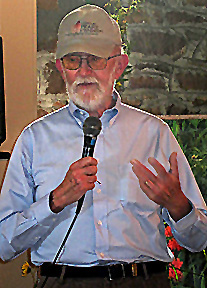 Lowell Pugh, pictured, a very modest man, spoke of his lack of formal education on prairies. Yet his exposure to men like Don Christisen, a Missouri Department of Conservation biologist, who fostered prairie preservation and college professors and students from St. Louis' Washington University who conducted a field course on the prairie led to his former hayfield becoming in his eyes a living laboratory of treasured plants and animals. His 20-years serving on the board of the MPF before becoming an emeritus board member in 1995 added to his passion for preserving native grassland.
It wasn't until 1970 that the MPF was able to fully acquire the 320-acre Pugh-family parcel over a two-year time frame for $200 an acre. Today it is appraised at about $1 million.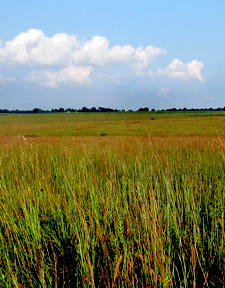 Money was, of course, an issue in acquiring prairie land, MPF's first affordable purchase being the 40-acre Friendly Prairie south of Sedalia. However, through gifts made by ordinary people, the group has managed to continue to purchase prairie land. Golden Prairie, pictured, as an example, is 310 acres bigger with another 480 acres of adjoining land owned by Roberta Gilbreath under MPF management.
An eight-acre irregular parcel of land located in Joplin, west of Texas, south of properties adjoining 15th Street and as far as 20th Street, has been set aside as prairie land. Supported by the Mined Lands Remediation Fund, land that was cleared by volunteers and replanted by the MPF will be turned over to the city of Joplin and designated as natural parkland. Linden's Prairie, a 171-acre tract near Mt. Vernon acquired in 2014 was dedicated in June 2015. Donations from a bequest from Linden Trial and a grant from the Robert J. Trulaske Jr. Family Foundation made this purchase possible.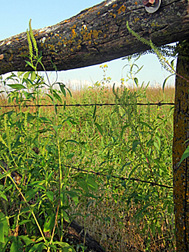 Not only is the MPF entrusted in providing stewardship for the land it controls--now over 3,000 acres, it considers its greatest challenge in selling the need to protect and restore biodiversity. To this end the organization encourages property owners to incorporate native plantings into their landscapes. An ambitious project, the formation of the Missouri Invasive Exotic Plant Species Task Force, was launched in 2015 to manage the growth of known invasive species and stop the planting of new ones, a difficult task since big box stores and popular garden catalogs promote their purchase to unwitting gardeners.
Pugh encouraged the audience to visit the prairie. 'Have fun. Don't try to pry science down kids' throats" was his advice.
And "Grow native!" were Pugh's final words.
Membership to the MPF may be made in one of six levels: regular, $35; friend, $50; supporting, $100; contributing, $250; sustaining, $500 or life, $1,000. Endowments may be made in any denomination. Make checks payable to the Missouri Prairie Foundation, c/o Martinsburg Bank, P.O. Box 856, Mexico, MO 65265-0856. Include your name, address, phone number and e-mail.