Thousands welcome Bernie Sanders to Springfield
March 13, 2016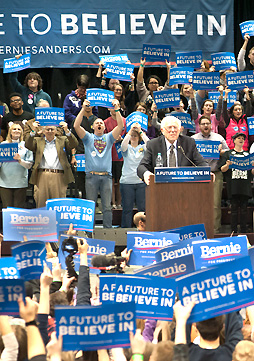 What a wonderful thing it would be if Missouri led this country to the political revolution. That comment was what Democratic presidential candidate Bernie Sanders said to encourage those who attended his rally in Springfield last night.
"Missouri is a very conservative state," Sanders told the huge crowd that had waited around the block for entrance to the JQH Arena. "Why don't you surprise them?"
What Sanders wanted to impress the majority youthful crowd was that he wins over his rival candidate Hillary Clinton when voter turnout is high. While some may have been in the audience because it was Saturday night and they had nothing to do, others were there, a few with babies in tow, because they strongly believe in Bernie's message. On Tuesday, March 15 (interestingly the Ides of March) when Missouri votes in the primary, they will be part of what Bernie hopes to be a great voter turn-out in support of his campaign.
"Real change never takes place from the top on down, but when people at the grassroots level demand it," Sanders said. His "political revolution" intends to create a government that works for the common good, not the privileged few.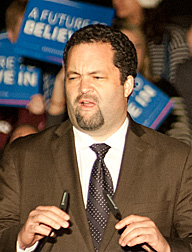 At the start of the rally speaking in support of Sanders was Ben Jealous, pictured at left, former head of the N.A.A.C.P. While he didn't stress that his endorsement of Sanders meant to rally the black vote, Jealous spent his time condemning Republican candidate Donald Trump for "dividing the country with false fear." His message to Trump was, "This is what a rally looks like."
Other speakers in support of Sanders included Congresswoman Tulsi Gabbard of Hawaii who quit the Democratic National Committee to support Sanders; Thomas McFarland, a senior at Missouri State University and president of the MSU Students for Bernie; and Charlie Norr, a four term Missouri state representative from the local District 132 (Greene County). Their conclusion was that Sanders was a "champion of the people" and "a candidate that cannot be bought."
A comment from the audience put a smile on Sanders' face immediately after he took the podium. In response to Sanders' first talking point--that the economy was rigged, a student hollered out, "We're getting screwed."
In illustrating his belief that there's more wealth inequality in the U.S. than in any other country, Sanders offered up the Walton Family (owners of Walmart with corporate headquarters in nearby Arkansas) as an example of a promoter of welfare abuse, paying their employees lower wages to preserve the bottom line for their stockholders and, according to Sanders, increasing their own wealth to the level that they alone are wealthier than society's bottom 40%.
Sanders considers that our criminal justice system is broken. Adding to why more people are in jail than any other country, including China, are arrests for possession of marijuana and the treatment of heroin abusers as criminals rather than as those in need of mental health care. With a large youthful audience it was a no-brainer that he got a round of applause for suggesting that marijuana not be part of the war on drugs and removed from the Substance Abuse Act.
In his hour-long talk Sanders illustrated his differences with his opponent Hillary Clinton. He opposed the war in Iraq. She voted for it, he said. He has funded his campaign on contributions from everyday people--five million individual contributions, he said, while she has several super packs, including having received $15 million from Wall Street. He wants to make public colleges and universities tuition free while she has imposed caveats.
Sanders leaves out no element of society in his discussion of reforms. They include comprehensive immigration reform to end undocumented aliens' fear of deportation, living up to promises made to Native Americans, getting pay parity for women and raising the minimum wage to $15 per hour, protecting children 0-4 against a dysfunctional child care system and protecting those he calls our brothers and sisters in the African American community from unwarranted police brutality. He also discussed this country's crumbling infrastructure and suggested one trillion dollars be invested in repair of bridges, roads, airports, levees and dams, projects that would create 13 million jobs. He also would counter any attempt to cut the social security fund which, he believes, provides insufficient money for many seniors and disabled veterans.
In looking for an answer as to why Republicans refuse to acknowledge climate change, Sanders referred back to the influence of political contributions--this time from the fossil fuel industry. "Stop worrying about campaign contributions," was Sanders' demand of Republicans, "worry about the future of this country."
Sanders does not want to repeal the Affordable Care Act as all the Republican candidates clamor to do but instead he enumerated all of its benefits. He supports legislation that would prevent drug companies from doubling the price of drugs and advocates for a medicare-for-all healthcare system.
When some have said, "Bernie, you're Santa Claus. How do you pay for all the reforms you want to see happen?" Sanders' reply, after reminding everyone how Congress in 2008 bailed out the banks after they failed, was "to think outside of the box," a theme he reiterated throughout the evening. He wants to impose a tax on Wall Street speculation. "It's time for Wall Street to do their part," he said. Sanders also does not support involvement in war whose previous cost was more than what would have paid for what Sanders considers necessary programs.
When someone who appeared to be a member of the working poor was asked after listening to Sanders' speech whether he would vote for Sanders, the person replied, "But he's a socialist," a description many Democrats believe has been fostered negatively by Republican pundits. What reply could be given but, "did you really listen to what he was saying?"
Click on any photo to start a slideshow. (Photos by Mari Winn and Vince Rosati.)