NIGA chairman receives blanket for good luck
March 09, 2006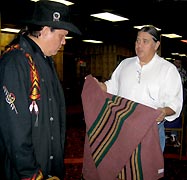 National Indian Gaming Association chairman Ernest L. Stevens, Jr., at left, is presented with a blanket from J.R. Mathews, vice president of the Quapaw tribe in a ceremony at the Quapaw Casino in Miami, OK.
The Quapaw Casino of Miami, OK received a thumbs-up from Ernest L. Stevens, Jr, chairman of the National Indian Gaming Association (NIGA) after he passed through Miami recently. During a breakfast meeting, he was welcomed by the Quapaw Tribe Business Committee. The Quapaw Casino has been in operation for more than 5 years.
On behalf of the Quapaw Tribe, J.R. Mathews, its vice chairman and alternate member of NIGA, presented a Native American blanket to Stevens as a traditional friendship gesture representing good luck.
First elected in 2001, Stevens is beginning his second term as chairman of NIGA. Stevens is a well respected leader in Native American Country. He is also a member of the Executive Board to the Native American Rights Fund, Boys and Girls Club of America, National Indian Child Welfare Association, National Indian Telecommunications Institute, Start-A-Heart in Indian Country and the Leonard Peltier Defense Committee.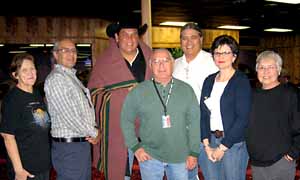 The Quapaw Tribe Business Committee poses with their guest. They are Marilyn Rogers, Lloyd Buffalo, guest Ernest Stevens, J. R. Mathews, Tamara Summerfield, Flossy Mathews, and in front, Ranny McWatters. Stevens is wearing the ceremonial blanket presented to him by Mathews.