Ryan Stanley to seek Joplin Council seat
October 20, 2013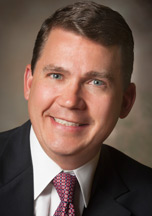 Ryan Stanley, pictured, a life-long resident of Joplin and current financial adviser for Edward Jones Investments, announced on Friday, Oct. 18, 2013, his intention to run for a general seat on the Joplin City Council. The election will take place on April 8, 2014.
"I am invigorated by this new challenge, and I am confident that I will serve Joplin well." Ryan Stanley told a group assembled during a press conference..
In describing the theme of his campaign, Championing Joplin's Future, he divided his platform into three key points:
Teamwork - or embracing the different experiences and points of view brought to the council by its members and working through compromise for the common good
Best Practices - ridding the notion of "the way we have always done it" with learning from the wisdom of others as well as their foolishness in similar circumstances and making Joplin a leader and wise example for others to follow
Long Term Growth - Capitalizing on Joplin's location as a hub accessed by I-44 and I-49 in order to drive future economic growth while maintaining the best quality of life
"In my lifetime, I see Joplin at the center of an economic district that spans north to Lamar, east past Carthage, west to Miami, south to the Arkansas border, and all points in between, " Ryan Stanley said. "I firmly believe that it is in our ability to replace Springfield as the third largest economic district in this state."
The son of Dan L. Stanley III and Melanie O'Flaherty Stanley, Ryan attended Joplin schools preparing himself for a degree in business from the University of Arkansas. He married Amanda Hurn in 1998. They have three children: Daniel Logan Stanley IV (Del), 13; Jack Stanley, 10 and Anna Pearl Stanley, 7.
--
Notes from Lynn Onstot, public information officer, city of Joplin--
Citizens interested in running for a Joplin City Council seat in April 2014 may pick up their nominating petitions from the city clerk starting Tuesday, Nov. 19, 2013. Petitions must be returned to the city clerk by 5 p.m., January 14, 2014, to be eligible for the April 8, 2014 election.
The council will have five seats available on the ballot, including three general seats and the seat in both Zone 1 and Zone 4. Currently Mike Woolston, Jack Golden and Trisha Raney hold the general seats. Gary Shaw holds the Zone 1 seat and Michael Seibert holds the seat in Zone 4.
In order to be eligible, citizens are required to be a qualified voter and have been a Joplin resident for at least four years immediately prior to the election.
Zone candidates need to live in the zone in which they are seeking a position, and will need to obtain 150 signatures from registered voters, with 75 of those coming from the represented zone. Their election is included in the citywide ballot.
General seat candidates should obtain 150 signatures from registered voters throughout the city. All candidates will also be required to sign a declaration of candidacy with the city clerk's office.
The state requirements for filing financial reports may be found here.
The city clerk will provide a booklet on "Council Election Guidelines" to interested parties. It also may be found on the city's website here. For more information, contact the Joplin City Clerk on the second floor of Joplin City Hall, 602 S. Main St., or call (417) 624-0820, ext. 220.