Kelley's November report
November 24, 2011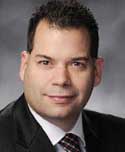 Commentary by
Rep. Mike Kelley of Lamar,
District 126 - Republican
(serving the counties of Jasper, Barton, Dade and Polk)
Funding repairs through tolls
Interstate 70 is one of the busiest highways in Missouri, and there are now proposals to turn it into a toll road to raise money for maintenance. Feedback shows there are many differing opinions as to whether this is a good idea or a bad one. Concerns for people who won't be able to afford to drive to and from work if they have to pay a toll, all the exits and entrances on and off the highway and the communities who could face the possibility of being by-passed therefore resulting in no traffic/no business/no future.
I will have to agree that unless there is a big change in the current proposal, I am not a supporter of toll bridges on this stretch of the highway.
Sexually oriented business law upheld
Missouri families won a major victory last week in our state courts. The Supreme Court upheld, in a unanimous ruling, the state's new law regulating sexually oriented businesses. That law was adopted by the Missouri Legislature last year to limit the negative secondary effects from businesses such as strip clubs, "adult" video stores and video arcades, and so-called "gentlemen's clubs."
The law was challenged by operators of sexually oriented businesses around the state, who claimed that it violated their First Amendment rights to freedom of expression. The State Supreme Court ruled, consistent with numerous federal court decisions, that the new provisions are constitutional.
Visiting the Capitol
I welcomed many visitors to the Capitol this year. I always enjoy it when constituents visit and I want to thank all who made the journey. If you ever find yourself in or around Jefferson City at any time during the year, please feel free to visit us!
Finally, if we can ever be of any assistance to you at your State Capitol during the coming months even while we are in the interim session, please do not hesitate to contact us at: (573) 751-2165 or you can reach my legislative assistant, Tammy by sending an e-mail here.