Texting legislation is proposed
December 23, 2011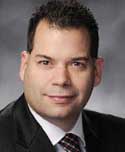 Commentary by
Rep. Mike Kelley of Lamar,
District 126 - Republican
(serving the counties of Jasper, Barton, Dade and Polk)
Anytime there is an accident causing loss of life, that is tragic beyond words. As legislators it is our duty to pass laws which protect and benefit citizens while making sure we avoid the temptation of knee jerk reactions. History has shown if we try to protect everyone from everything the law of unintended consequences is sure to kick in.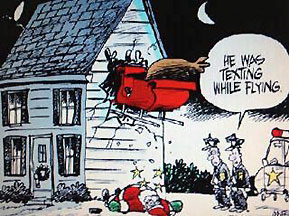 (Posted in Cartoon by Marshall Ramsey)
I do believe texting while driving should be made illegal. It is very distracting and dangerous and I would support legislation banning it for all ages while behind the wheel. As to banning all cell phone activity while driving, I believe that would fall into the knee jerk reaction category. If we ban all cell phone use in a car, then in the interest of fairness, we should not stop there. Eating, applying makeup, visiting with a passenger, and changing the radio station should also be made illegal. Beyond it being unenforceable these bans would never pass muster with the public.
Cell phones have become a part of our daily lives and are here to stay. The ultimate responsibility, of course, lies with the users, not legislators. This is a press release I have sent out:
Rep. Mike Kelley Co-Sponsors Legislation to Improve Roadway Safety by Implementing a Ban on Texting while Driving

JEFFERSON CITY, MO - Legislation [sponsored by Don Wells (R-147]co-sponsored by state Rep. Mike Kelley, R-Lamar, would expand Missouri's texting-while-driving ban for drivers 21 and under to all Missourians who get behind the wheel. The legislation (HB 1083) was filed the same week the National Transportation Safety Board called on all states to implement a ban. Kelley said that for it is time for Missouri to improve roadway safety byjoining the 35 states who already have bans in place.

"We've all seen drivers weaving dangerously in traffic as they try to send a text message. There is no doubt these drivers are not paying attention to the road and endangering all those around them as a result," said Kelley. "It's time to expand our ban so that it applies to every driver and not just those 21 and under. The change will mean safer roads and far fewer accidents."

Missouri's current law, which was passed in 2009, currently bans anyone 21 and younger from texting while driving. The legislation co-sponsored by Kelley would prohibit all drivers, regardless of age, from text messaging while operating a moving vehicle unless the device being used is equipped with technology allowing for voice-recognition hands-free texting.

The 2012 legislative session begins January 4.