Legislative session resumes focusing on Blueprint
January 07, 2012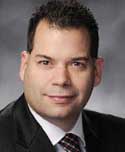 Commentary by
Rep. Mike Kelley of Lamar,
District 126 - Republican
(serving the counties of Jasper, Barton, Dade and Polk)
Yesterday, we began the 2nd regular session of the 97th General Assembly of the State of Missouri...There are several issues the House will debate during the 2012 legislative session. The principle agenda will be focused on the "Blueprint for Missouri", formulated by Speaker Tilley and the House majority caucus. The four planks of the Blueprint consist of advancing legislation in support of: Missouri Jobs, Missouri Taxpayers, Missouri Schools and Missouri Values.
With the Missouri unemployment rate hovering around 9%, the House will debate how we can create the right climate for job creation in our state and what tools employers need to retain workers and/or add new employees to their payrolls. We will discuss workers compensation reform (co-employee liability, occupational disease, second injury fund reform), prevailing wage reform, the Missouri Entrepreneur Virtual Resource Network and tort reform measures that will include reform of employment discrimination law, loser pays proposals and joint and several liability.
To protect Missouri taxpayers, we will be focused on advancing the Taxpayer Protection Act and once will adhere to our "No New Taxes" pledge together with a balanced budget as well as requiring county debt disclosure. Criminal justice reform (which can dramatically reduce excessive economic drags on the state budget) also will be on our docket and will consist of recommendations from working groups and interim committees.
With attention being drawn to the now unaccredited Kansas City School District (joining the decades long unaccredited City of St. Louis School District), there will be many discussions on what the best fixes are to improve Missouri schools. Since the school climate from Southwest Missouri and the large inner city schools seem to be about as different as night and day I will be doing all that I can to protect the interest of the rural school districts of Southwest Missouri while helping fix the broken systems that we see in the inner city.
Last but not least, value based issues will also come to the fore. These include veterans home funding, pharmacist and health care provider conscience bills, mandatory reporter reform, expanded college savings plans and voter photo ID-enabling legislation.