Dr. McIntire receives MAOPS award
July 04, 2016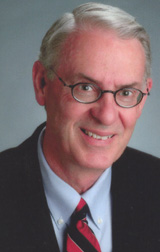 The Missouri Association of Osteopathic Physicians and Surgeons (MAOPS) recently named Dr. Larry McIntire, pictured, Freeman Ear, Nose and Throat Program Director, Physician of the Year at the MAOPS President's Banquet. The award was given for his outstanding career accomplishments and for being a driving force behind the development of a Joplin campus for Kansas City University of Medicine and Biosciences (KCU) College of Osteopathic Medicine.
"I was shocked to receive this extraordinary honor," McIntire said. "This recognition would not have been considered without the Freeman physicians, staff, administration and board of directors working together to care for the patient population and promote the medical school. Our combined efforts toward preparing for delivering care and medical education is in keeping with our mission."
McIntire, who currently serves as Joplin Regional Medical School Alliance President and maintains several faculty clinical appointments at various universities, also praised the entire medical community, private individuals, organizations and foundations that have played pivotal roles in creating the Joplin campus.
"This medical school will be out-of-sight," McIntire said. "It will shape the community for years to come."
A groundbreaking ceremony was held in March 2016 on the KCU-Joplin campus, and students will start attending in April 2017. The Joplin campus will be the first new medical school location to open in Missouri in more than 40 years. Freeman is a teaching hospital, a key component of the new school, and has made a commitment to provide residency and training opportunities for KCU Joplin students. The physician training program at Freeman has provided medical students and resident doctors the opportunity to study with some of the most knowledgeable and dedicated physicians in the country for more than 40 years.