Safelite manager is rewarded for relief efforts
March 20, 2012
David Leach, a division manager for Safelite AutoGlass® based in Denver, has been awarded one of the company's $5,000 Exceptional Customer Service Awards.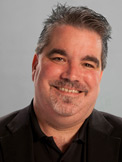 Last year, Leach, pictured, came to Joplin's aid after news of the devastating tornado flattening the town. Leach, whose wife, Tammy (nee Koenig), is originally from Joplin, led a team of co-workers, partnering with the Red Cross that collected over 55,000 pounds of supplies for the victims. As a result, he is being recognized with this international award for his personal impact and leadership he provided.
Leach served as organizer, caterer, field general, logistics coordinator, cheerleader and finally as truck driver as he made the 700+ mile trip to Joplin for the delivery.
"The impact this program had on our team was great," Leach said. "Our customers still got delighted, glass got put away, business got taken care of, but in between, our associates helped do some good and you could see the effect on how they worked. It was impossible for our associates to stand on the sidelines."
Comments from Tammy R. Koenig Leach: "I lived in Joplin from the time I was a baby until the age of 19. I went to Longfellow Kindergarten, Jefferson Elementary, Memorial High School my freshman year, and was in the first sophomore class of Joplin High School, graduating in 1988. I spent one semester at MSSC, before moving to Kansas City. My mom, sister, various aunts, uncles, cousins, and my grandmother, and many of my closest friends still reside in the Joplin area, and I will always consider it home."