Lattimer joins Sunrise Media
December 09, 2011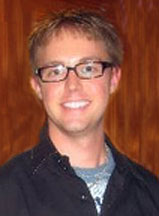 Local videographer Dustin Lattimer, pictured, a Joplin native, has joined the Sunrise Media Group, Inc. as the firm's production associate. He will be assisting with video and audio production and multi-media presentations.
"We are very excited to have Mr. Lattimer joining our team, said Doug Hunt, Sunrise Media's president and CEO. "His extensive background in television news, videography, and post video editing will be a great addition, allowing us to continue to provide cutting edge services for our clients."
Lattimer got his start in video production in high school. He started out as a news assistant intern at KODE-TV and worked his way up to executive producer of the 5 p.m. newscast. His 8 1/2 years of experience at KODE included news reporting and fill-in anchoring.
"I knew about Sunrise Media Group since working at KODE and was intrigued by their aggressive business model and quality work that I believe is unmatched in this market," Lattimer said. "Sunrise has a wonderful staff, excellent customer service and unmatched production quality, and I'm blessed to be able to work with such an outstanding business."