Female eludes officers in Joplin chase
January 02, 2014
UPDATE: On January 2, 2014 the Joplin Police Department was contacted by the owner of the vehicle that the suspect, Deanna Martin, was driving during this incident to report his vehicle as stolen. He indicated that he woke up this morning and found his vehicle gone. We will submit charges to the Jasper County Prosecutorís Office for 1st Degree Vehicle Tampering for review of formal charges.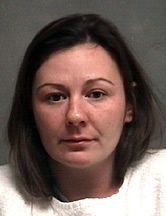 At approximately 9 p.m. on January 1, 2014, officers with the Joplin Police Department responded to information regarding a possible intoxicated driver at 20th and Range Line Road. They located the vehicle 16 blocks north. Deanna Orr Martin, 29, of Joplin, pictured, became the subject of a police chase that ended with her eventual arrest in the 200 block of South Byers where she struck a retaining wall but not before striking two patrol vehicles. One officer who received minor injuries from the crash was taken to a local hospital, treated and released and one of the patrol vehicles had to be towed from the scene because it was not drivable.
The suspect was arrested on two counts of 1st Degree Assault on a Law Enforcement Officer, DWI, several traffic violations, property damage and Felony Eluding. Charges have been forwarded to the Jasper County Prosecutorís office for review of formal charges. The suspect is presumed innocent until proven guilty in a court of law.