Barksdale is chosen Maple Leaf Grand Marshal
August 22, 2014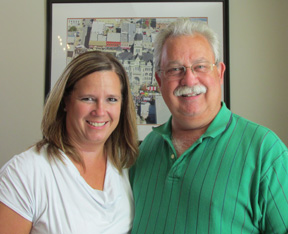 Jeanine Poe, Maple Leaf Festival committee chair, is shown with Bill Barksdale, recently selected as the 2014 Maple Leaf Grand Marshal.
CARTHAGE – The Maple Leaf committee has selected Bill Barksdale as the 2014 Maple Leaf Grand Marshal. He will be honored during the parade that will take place starting at the square on Saturday, Oct. 18, 2014. He also will act as judge at the Three Minutes of Fame Lip Sync Competition, and participate in many other Maple Leaf events.
A Lieutenant and 35-year veteran of the Carthage Police Department, Barksdale was the department's first D.A.R.E. officer. As part of his current duties, he helps coordinate law enforcement efforts for both Marian Days and Mudstock.
Each year he plays Santa Claus at the LaVerne Williams Children's Christmas Party. He is also an adjunct instructor at MSSU's law enforcement academy, region 3 coordinator for Special Olympics, active on the board of his church, and has participated for the past several years in both the Salvation Army bell ringing and Polar Bear Plunge to raise charitable funds.
The nominating letter stated in part that Bill's community contributions are "really too much to name and he has also straightened out a whole bunch of teens."
Festival activities
Held annually in Carthage, the next festival, the 48th annual event, will take place with something scheduled throughout the month of October. On Saturday, Oct. 11 the Maple Leaf 5K/10K Run and 3K Walk will begin at 8 a.m. and the baby and toddler pageants will take place at 2 p.m. and 4 p.m. On Sunday, Oct. 12 the dog show and Leap & Dash are scheduled at 1 p.m. and pageants for ages 2+ will start at 3:30 p.m. On the day of the parade food, art/craft booths and live entertainment will be on the Square, the annual Marching Band Festival and Willie Arthur Smith's Marching Cobras will perform in the auditorium providing a variety of activity for this year's attendees. In addition to the activities downtown on the day of the parade, the week holds plenty of other events located throughout Carthage including a car show, lighting contest, adult beverage tasting, gospel sing, and quilt show.