Grand Lake o' the Cherokees...memories
February 21, 2004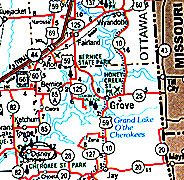 "Mom, why didn't they make Disneyland in Disney?" I thought this a logical question. Of course, I was 8 years old and was just being introduced to a lifetime of Grand Lake o' the Cherokees experiences and memories. I don't recall my mother answering me. That was in 1956, and I have gone from wondering why Disneyland wasn't in Disney to actually making Grand Lake my home...45 years later.
It all began again last summer. My husband Gary and I were living in Santa Fe, New Mexico. I loved it there. I loved the climate, the mountains, the different cultures but I didn't like the crowds or the traffic, and I won't even mention what was wrong with the Indian Market.
We had talked about re-locating, but we decided that we honestly couldn't think of one place we'd rather live. That was, until, July of last year when we had a family reunion at Tera Miranda.
There were probably 30 of us--aunts, uncles, cousins, children and grandchildren, in-laws and outlaws. It was hot. And it was humid. I wondered aloud how I had ever, ever lived most of my life in Oklahoma.
Then one afternoon, we all went out in the boat and floated. Now if you've never floated on a hot, humid summer day, beer in hand, laughing, with a group of near and dear, then I highly recommend it. It is truly a nostalgic experience.
Suddenly, I remembered the old rock cabin at Radschweitz's on the water in Disney and dear old Mr. Radschweitz cleaning that poor catfish by hammering its head into a tree; the great, gushing waters pouring out of the spillway gates and watching the fishermen scooping up the fish with their nets under the dam; the heated fishing docks with my Dad; the trampolines on the dock at Duncan's Hideaway; drinking a Shirley Temple and watching all the tipsy men at the slot machine at the Cherokee Yacht Club while munching on that delicious sesame fried chicken; gathering large pieces of driftwood with Mom along the shoreline (are there any large pieces of driftwood left?); Harding's Harbor (now Harborview Marina) and learning to 'surfboard' with that scary ol' HUGE surfboard tied to the boat, comin' at me in the water (but then, I also thought the road across Pensacola Dam was plenty wide); the newspaper delivered to your boat at Airport Resort (oops, sorry, Tera Miranda); the Cherokee Queen sinking; the traffic/boat jam the night of the fireworks at Duck Creek; the fireworks at Airport Resort; anchoring at Dripping Springs (before it had traffic lanes); skiing in Drowning Creek with my brothers and sister, then pulling my kids skiing at Woodard Hollow; being the first to wake up on a thick, silent, summer morn with a cup of coffee, and my thoughts on the back of our boat while listening to the Nutcracker Suite; and last but not least, the less than a dollar toll fees on the turnpikes.
And, so, now I am beginning Chapter Two. Let the memories begin!